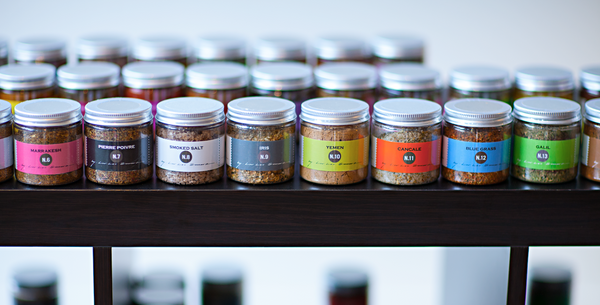 Shopping for Spices
6 Things to Look Out for When Shopping for Spices
1. PACKAGING
When shopping for spices in the grocery store or supermarket, look for spices in translucent packaging. This means see-through glass or plastic containers or even plastic baggies. This way you'll be able to tell the quality and texture just by looking.
2. COLOR
Spices shouldn't be dull in color and the color of a single spice should be consistent throughout. If you're buying dried chili powder like paprika, the color should be vibrant. When buying white peppercorns, all of the peppercorns should be milky white. Dried herbs should be quite green.
Use your best judgment, avoid spices that look comparatively old, muted, and dull. 
3. ORIGIN
When buying spices in the grocery, look for the country of origin on the packaging. This way you can ensure that you are buying the spice from a trusted supplier that is sourcing from the best farmers. 
4. PRICE
While some spices are naturally more inexpensive than others, buying spices that are slightly pricier typically pays off. If a spice is too cheap, it is likely not high quality. Remember, you usually get what you pay for. 
5. EXPIRATION DATES
Before you buy, be sure to check the expiration date on the packaging. You never know how long that spice has been sitting on the shelf.
6. ONLINE VS IN-STORE
These days, most grocery stores have a wide selection of spices and some might even have an array of spice blends too. However, it is still hard to find rare and exotic spices in stores.
The good news is that you can find pretty much any ingredient online. Just be sure that you are purchasing from a trusted supplier through your own research or a referral from a friend.