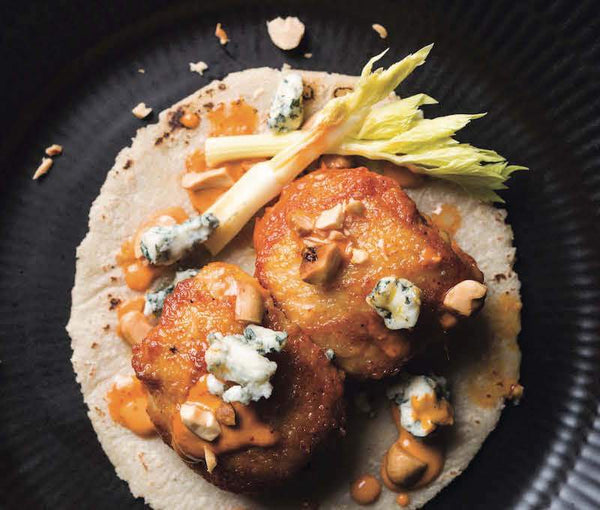 Jordana Rothman Talks 'TACOS'
Co-author of TACOS: Recipes and Provocations, with Chef Alex Stupak
1. What was your favorite part of writing Tacos? Tell us a story!
There were so many incredible moments in the making of that book. Traveling in Mexico with Alex and Lauren Stupak was full of inspiration, and I loved spending so much time in the kitchen at Empellon Cocina where we did a lot of recipe development. But mostly I just loved going round-for-round in conversation with Alex to uncover some detail or dig out the root of some idea that we wanted to inspect. Inquisitiveness is something we share and that process was, and continues to be, spectacularly rewarding.
2. While writing your book you engaged in extensive recipe testing. What did you learn about spicing and what methods, combinations, and techniques are unique to Mexican cuisine?
I most loved learning about how much conditioning goes into each ingredient when you're working with the Mexican pantry. It's not just that there are many ingredients in a mole, for example, but that each component is prepped so that it performs at the peak of its fragrance and flavor. You learn what spices need to be toasted whole and ground to develop their character—you develop instincts so that you know to pull that canela from the heat at just the right moment. Working with dried chiles is a fascinating process—toasting them until you see that wisp of smoke; soaking and draining. These are the nuances that make Mexican cooking so compelling.
3. What are some creative ways you think a home chef could make use of this knowledge?
Alex is so brilliant in the way he backs into ideas as a chef and an intellectual, and I think the more you play with these flavors, the more intuitive that can be, even for a home cook. We have a chicken wing taco with celery and blue cheese in the book, because when Alex tasted salsa macha for the first time he was reminded of the flavor of Frank's hot sauce, which in turn made him think of wings. That kind of free association is really encouraged and can yield some very beautiful food.
4. Mexican cuisine has a reputation in America for being spicy, which many people also assume means hot. What are some dishes you came across while writing your book that are "spicy", but not chile laden?
Great question and a beautiful distinction. The beef picadillo in TACOS is such a beautiful recipe and a really wonderful example of what you're talking about. There are some chiles in there, but this is a deeply spiced taco; when you taste it, you're tasting clove and allspice, oregano and cumin. It has so much dimension and detail without a tremendous amount of heat.
5. Winter is fast fading and spring is on the way, what's a recipe from Tacos, preferably a "spicy" one, that you think echoes this transition?
The fava and blood sausage taco with mint salsa verde would be a great way to slip between seasons once the beans come into the market. Alex really loved the idea of kind of defiling this bright green vegetable with somethingthat has the depth and impact of blood sausage, and I can't argue with his logic. It's the sprightliness of spring and the darkness of winter in a single bite. And of course, any lamb taco is perfect for the Beltane celebration of your wildest dreams. I particularly love the lamb tartare taco, great and cool for days when the weather starts to turn.
Fave and Blood Sausage Tacos with Mint Salsa Verde
Unlike Spanish morcilla (often spiked with paprika and oregano) or the fennel pollen and winter spice flavors of Italian biroldo, Oaxacan blood sausage—sangrita—is prominently seasoned with mint. The herb provides a freshness that's surprising in the context of intense, mineral-rich blood sausage, and it's a pretty delicious detour. Sangrita and potato is a common taco filling, but I like the idea of using fava beans when they are in season. The beans mimic the potato's starchiness, while their nutty green flavor is a perfect layup for a salsa verde that swaps the usual cilantro for more bracing mint. The finished taco is a high-wire act: Deep flavors balance bright ones, and fresh, snappy vegetables enliven the sangrita's sticky texture, all in the same satisfying bite.
Makes 12 Tacos
Make Ahead:
1 recipe Blood Sausage (recipe below)
Raw Salsa Verde (recipe below), substituting cilantro with mint, for serving
For the Filling:
1⁄4 cup extra-virgin olive oil
21⁄2 pounds fresh fava beans, shucked, blanched, and peeled (1 1⁄2 cups)
1 teaspoon kosher salt
For Assembly
36 mint leaves (from about 6 sprigs), cut into chiffonade
2 limes, each cut into 6 edges
Make the Filling: Set a 12-inch sauté pan over medium heat and add the olive oil. Once the oil is shimmering, add the Blood Sausage and break apart using a wooden spoon. Cook until the sausage is dark and rendered, about 5 minutes. Add the fava beans and cook until warm. Season with salt. Remove from the heat and set aside in a warm place. Make one batch of tortillas and hold them warm.
Assemble the Tacos: Lay out the warm tortillas on serving plates. Evenly distribute the sausage-bean mixture among the tortillas and top with some of the Mint Salsa Verde and the mint chiffonade.
Squeeze a couple of the lime wedges over the tacos and serve the rest on the side.
Blood Sausage
Mint and mezcal brighten the dense livery flavor that blood sausage is known for in this Oaxacan-inspired sangrita. Instead of piping the sausage into a casing and poaching it, I use a low-temperature oven to set the blood and bind the ground pork; I run a spoon through it once it is cool to get the crumbly texture that you'll want for the Fava and Blood Sausage Tacos.

You can buy pig's blood fresh or frozen at the butcher; the finished sausage will keep for up to 3 days in the refrigerator.
Makes About 4 1/2 Cups
6 whole cloves
6 allspice berries
6 árbol chiles
1⁄4 pound fatback, diced small
1 medium white onion, minced
1 tablespoon kosher salt
3 garlic cloves, minced
1⁄2 pound ground pork shoulder
1 dried bay leaf
40 mint leaves, chopped
2 cups pig's blood
1⁄4 cup mezcal
1⁄4 cup heavy cream
1 tablespoon vegetable oil
Preheat the oven to 200°F.
Set a 12-inch cast-iron skillet over medium heat for 5 minutes. Add the cloves and allspice berries and toast, shaking the pan, until fragrant, about 15 seconds. Remove from the heat, transfer to a spice grinder, and grind to a fine powder. Set aside in a bowl.

Place the skillet back over medium heat. Remove the stems from the árbol chiles and gently roll the chiles between your fingers to remove the seeds. Discard the seeds. Toast the chiles in the skillet, turning from time to time, until you see the first wisp of smoke, about 30 seconds. Transfer the chiles to the spice grinder, grind to a fine powder, and add to the bowl with the ground spices.

Set a large sauté pan over medium heat. Add the fatback and cook until it begins to render, about 2 minutes. Add the onion and salt and cook, stirring, until the onion is translucent. Finally, add the garlic and cook until slightly softened, about 2 minutes.

Add the ground pork and bay leaf to the sauté pan and cook until the pork is crumbly, about 10 minutes. Remove from the heat and drain the excess fat into a heatproof bowl, leaving about 1 tablespoon in the pan. Let the mixture cool to room temperature.

Pick out the bay leaf and discard. Add the ground spices and chiles to the cooled pork, followed by the mint leaves. Transfer the mixture to a bowl and add the pig's blood, mezcal, and cream. Stir gently to combine.

Grease a 2-quart casserole with the vegetable oil. Pour the pork mixture into the dish in an even layer, cover with aluminum foil, and place on the top rack of the oven. Bake the blood sausage until it sets, about 45 minutes. Remove from the oven and let cool to room temperature. Run a spoon through the blood sausage to break it up, then transfer to a container and refrigerate until ready to use.
Raw Salsa Verde
Raw ingredients speak (shout, actually) for themselves in this purist salsa verde. It's all about the green apple acidity of ripe tomatillo, the heat of untreated chiles, and the garlicky sting right up front.
Makes about 1 cup
1 garlic clove, roughly chopped
1 teaspoon kosher salt
2 serrano chiles, stemmed and roughly chopped
1⁄2 medium white onion, minced
3–4 medium tomatillos (about 5 ounces total), husked, rinsed, patted dry, and diced
1 teaspoon honey
40 cilantro leaves (from about 10 sprigs), roughly chopped
Equipment: Molcajete*
Place the garlic in the molcajete with the salt and crush to a paste using the tejolote.
Add the chiles and minced onion to the paste and crush to a coarse texture. Add the tomatillos and continue crushing with the tejolote until pulpy. Season with the honey and stir with a spoon. Add the chopped cilantro and stir to combine. Transfer to a container and refrigerate until ready to use. The finished salsa is best eaten the day it is made; if you want to work ahead, don't add the cilantro to the salsa until the day you plan to serve it.
*If you don't have a molcajete, prep all the ingredients as instructed and add them, minus the cilantro, at once to the jar of a blender. Pulse to combine then stir in the chopped cilantro.
6. What's next for you? Perhaps another book?
I'm knee deep in a number of freelance projects at the moment. As to another book, I certainly want to take that on, but as with TACOS it would have to make sense for me in a lot of ways. As a writer you are married to a project for so long, that you truly have to love it and love whomever you're working with, to get through it. I'm so lucky to have had such a perfect and fulfilling experience with Alex, but I do know that this isn't always the case. I will say that at some point I'd love to explore Indian cuisine in a more formalized way. It shares some commonalities with the Mexican kitchen, and is similarly underrepresented in the United States. I just want to write about things that are fascinating and that offer opportunities to have my mind blown all over the pavement when I learn something new and unspeakably cool.
Follow Jordana for more updates
Jordana Rothman is a veteran of Time Out New York, where she held the reins as the magazine's food and drink editor for six years. She's a respected member of the national food-writing community and a frequent contributor to print and digital publications such as Food &Wine, Bon Appétit, New York Magazine, Cherry Bombe, MadFeed, Grub Street, and Condé Nast Traveler.
Recipe reprinted from TACOS: RECIPES AND PROVOCATIONS by Alex Stupak and Jordana Rothman. Copyright ©2015 by Empellon Holdings LLC. Photos by Evan Sung. Published by Clarkson Potter/Publishers, an imprint of Penguin Random House LLC.