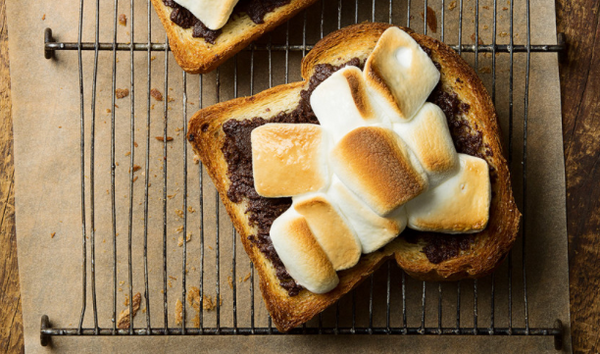 TOAST Perfection with Raquel Pelzel
Co-author of over 18 cookbooks, including James Beard finalists Masala Farm and DamGoodSweet, author of TOAST
Raquel Pelzel has created 50 seasonal recipes that revolve around the "bread and butter" of cuisine with delicious and simple ingredients that come together in surprising ways. Spanning sweet and savory toast combinations like s'mores toast and tomato and feta cream, the TOAST cookbook will inspire you to see this classic staple in a new light.
1. It's officially 2016 and after all the rich holiday food, can you recommend some lighter options to try on toast?
I would go for any toast calling on lots of vegetables and fresh, bright flavors as the topping. Avocado toast is a given...in my cookbook, I pile avocado on to toast with onion, tomato, cucumber, chile and other "fattoush" ingredients (sumac, nigella...). Since tomato isn't really in season, you could sub in a roasted veg--roasted cauliflower would be killer. I also have a crab and avocado toast that is really fresh and light, with a bit of tang and spice from tomatillo salsa. The cumin-roasted carrots with muhammara is nice and bright too thanks to fresh mint, and roasted beets with labne is so delicious--a little sweet and a little savory.
2. With 18 co-authored cookbooks, what was your inspiration for TOAST, your first solo cookbook?
I think I ate my first "fancy" toast at 'ino, a little shoebox of a restaurant in the West Village in the early 2000s...remember the truffled toast with asparagus and egg?? So freaking good. And then, a couple of years later you have Dan Kluger, the ex-chef at ABC Kitchen (who is about to open his own place in NYC...Dan will you hurry up already?!?) who really defined the genre--his squash on toast was a revelation. And then toast started popping up across the country. Sqirl in LA, Bachelor Farmer in Minneapolis...it was interesting and fun and satisfying and seasonal. My editor at Phaidon, Emily Takoudes, suggested I try to come up with a TOC (table of contents in industry talk) for a toast cookbook. And within 24 hours I shot her a list of like 100 ideas! It came together so easily because it was such an opportunity to be creative and have fun with creating balanced compositions to put on top of bread.
3. To get the perfect toast, can you share your must have tools as well as any tips or tricks?
It all begins with good bread of course. The better the bread, the better the toast. If the loaf is extra crusty or even extra soft (like challah or brioche) I turn the loaf on its side to slice it so I don't squash the bread by applying too much pressure from the top when slicing. A good bread knife is key--I have an inexpensive Forschner (it's like $40!) that I've had for a decade--it has served me well. My sweet spot for the perfect slice is between 1/2- to 3/4-inch thick--I like to have a toasty surface but enough width so the inner crumb remains spongy. When it comes to actually toasting, my preferred method is the broiler. I love how it imperfectly chars the bread. And because I use the broiler, I oil or butter the bread first--it gives the fat an opportunity to melt into the crumb and settle into the crevasses and nooks. A pinch of salt on the bread before toasting is a good idea too! If you're using a toaster to toast, you have to wait until after toasting to butter or oil the bread. A grill or grill pan works great too, by the way.
4. What have you found to be kid friendly toasts that are easy to make for parents on the go?
Kids love toast because it's glorified finger food. I have two sons, and they had a lot of fun tasting through all of the recipes (though I have to be honest, by the end of recipe development they were totally OVER toast!). The fried chicken toast and the s'more toast (of course!) are two of their favorites but they also devour the avocado and crab toast. My kids really love lentils too, so the lentil, bacon and cabbage toast was a big hit. Toast is really a great way to introduce kids to new flavors because they can try it in small doses. Some kids (like mine) get a little delicate about too-crunchy toast--so for my boys, I do a single-side toast on the bread leaving one side untoasted so they get crunch but there is still softness.
I often make the boys a simple melted cheese toast for breakfast--oil and salt the bread, toast it, add some shredded cheese and melt it under the broiler. Kind of like between pizza bread and a quesadilla. Haven't met a kid who will turn their nose up at that yet!
5. Are you working on any exciting, new projects? Share with us!
YES! I have two books coming out this spring: a book I wrote for the Shortstack collection (sorry but I have to keep the ingredient a secret until the book is annouced!) and the Num Pang cookbook that I worked on with the guys behind the Num Pang sandwich chain. In the fall of 2016 the cookbook Breaking Breads will come out--this is an exciting one that I helped baker Uri Scheft write (he's the genius behind NYC's most beloved chocolate babka). I'm also working on a cookbook with Cedella Marley, Bob Marley's daughter. It's a Jamaican influenced book with lots of family recipes and stories...and the bonus is that its a cannabis cookbook so there will be lots of great information on how to make each and every recipe "spiked" with humane levels of weed-infused butters and oils. Of course I have to test every recipe (in a state where cannabis is legal, of course). Have I mentioned how much I love my job?
Toast + Love 4-Ever....Raquel
Follow Raquel for more updates