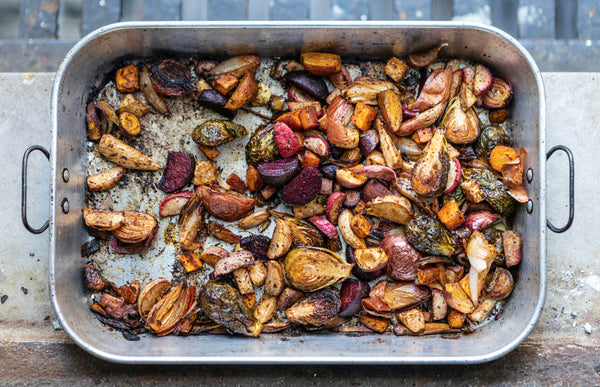 Roasted Mixed Vegetables
I used to be all about high-heat roasting, but the great chef Ana Sortun taught me to "slow it down, let it cook." That lesson applies here. By roasting the vegetables longer at a lower temperature, the spices infuse them without burning and the natural sugars caramelize beautifully. Because vegetables are so easy to prepare, inexpensive, healthy, and delicious, I purposefully roast them in big batches; they keep nicely in the refrigerator and are worth having on hand for dinner all week long. In fact, I pull them out of the fridge to eat straight from their containers for midday snacks and even breakfast. The produce mix here reflects my preferences, but you can use any combination of your favorite vegetables. The proportions are for about 5 pounds of raw vegetables total. While you want to cut all the vegetables into roughly the same size so they cook at the same rate, you can play with the shapes to make the dish look more interesting. Try slicing at an angle or cutting long sticks. 
The flavors in this master recipe are all about balance— whole fennel seeds soften in intensity and counter the heat of Aleppo pepper; sumac's tartness is rounded out by the warmth of cinnamon.