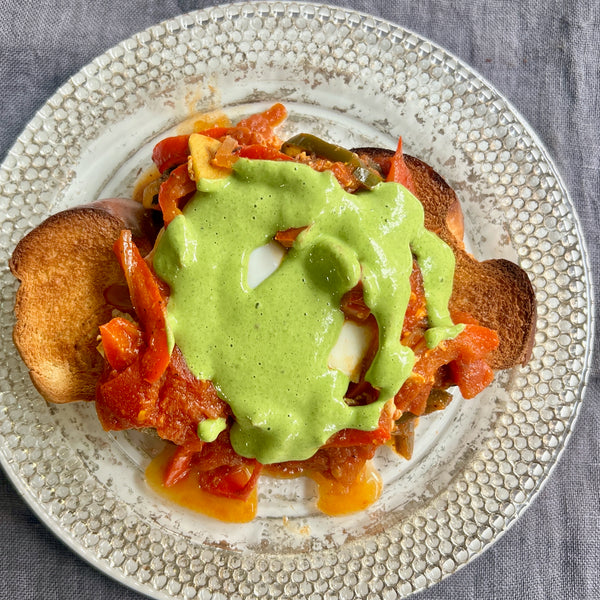 Eggs Benedict La Boite Style
When we were developing dishes for Mother's Day, we wanted to create something that felt special and unique, while being a great dish for breakfast in bed! The result is our Eggs Benedict La Boite Style.
This Eggs Benedict has fewer moving parts with loads of Middle-Eastern flavors. It's a marriage of La Boite recipes, built together for a delicious, nutritious brunch for mom and the entire family. Using shakshuka in place of Canadian bacon and poached eggs turns it into a simple one-pan meal that can also feed a crowd. 
This flavorful condiment stands in place of classic hollandaise, offering herby, nutty, Middle-Eastern flavors to the dish as a whole. It's also delicious as a dressing or dip for a variety of dishes, so we like to keep a jar on hand at all times.
Tip: You can make this sauce the day before and leave it in your fridge. We recommend taking it out of the fridge an hour before use so that it doesn't cool down the Eggs Benedict. 
We went for smoky, saucy shakshuka for a vegetable-forward toast topping that feels impressive and luxurious.
Step 3: Toast your challah
This will be the base of your Benedict!
Step 4: Assemble
Plate up your toasted challah, add a scoop of the shakshuka along with one egg on top of the toast, drizzle with Shabazi Tahini Sauce, and enjoy!