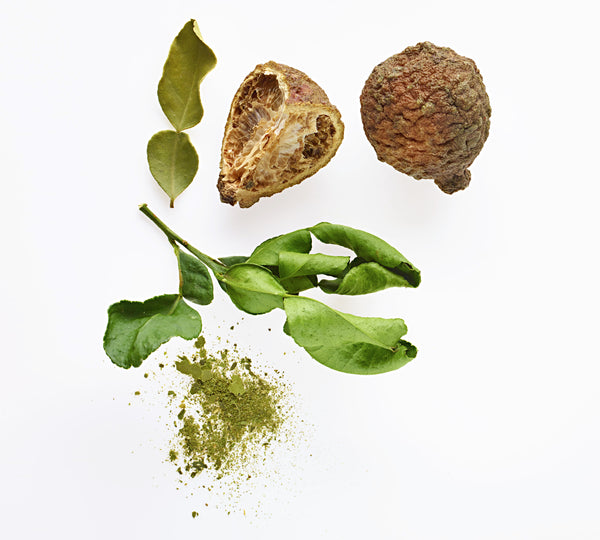 Makrut Lime Leaves
Makrut Lime
(CITRUS HYSTRIX)
The intensely fragrant fruit and hourglass-shaped leaves of a citrus plant
Makrut lime leaves have been a mainstay in Southeast Asian cuisine for many years, but have recently gained more popularity in the bartending world for their unique potency. The leaves, zest, and small squeeze of juice add an essential citrus element that isn't quite lemony and isn't quite limy.
Flavor & Aroma
The beauty of makrut limes is just how fragrant and potent both the leaves and fruits are. As soon as you open a jar of them, your nose is hit by a remarkable freshness along with floral notes. Don't be fooled by their place in the citrus family, the limes have very low acidity and there is barely any juice inside of the fruit. If you can get a drop of juice, you'll find that the juice is slightly bitter and a little bit goes a long way. Use the fruits to balance seafood dishes or ingredients like onion and garlic. When using the fresh leaves as a garnish, remember to remove the central vein first as it is inedible.
Another great thing about makrut limes is that the leaves and fruit are just as amazing dried as they are fresh, so you can enjoy them all year long. At La Boite, we purchase the leaves and limes at peak season and dry them in-house to ensure maximum quality.
Origin
Native to Southeast Asia and cultivated in Southeast Asia, Australia, and the United States (California and Florida)
Harvest Season
Makrut limes grow on a bushy plant and both the leaves and the lime fruit can be harvested at different times throughout the year. The leaves have two lobes connected by a central vein, can vary greatly in size, and can be picked throughout the year as needed.
The fruit themselves are a wrinkle, knobby lime that turns dark green when it's at its peak at the beginning of the fall.
Usage Ideas
1. Infused dried makrut lime leaves in simmering orange juice, strain, chill, and use the juice for mimosas.
2. Grate some dried makrut limes with a Microplane over seared scallops.
3. Marinate green beans with olive oil, garlic, and ground makrut lime leaves before grilling.
Other Pairings
Crab spring rolls • Shrimp coconut soup • Pad Thai • Steamed bok choy • Pork and peanut meatballs • Flavored rum • Tom kha gai
Recipes Using Makrut Lime Leaves