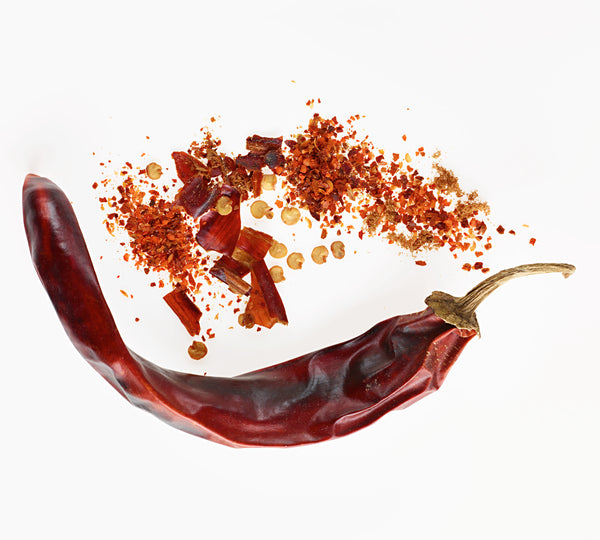 Peperoncini (Calabrian Chili)
Peperoncini (Calabrian Chili)
(CAPSICUM ANNUUM)
A variety of fiery, fruity chilies from Italy's Calabria region
It's interesting to note that when you buy peperoncini in any form, it is actually a mix of different Italian chilies that all grow in the same region on the toe of Italy's boot. The primary chilies that grown in this mountainous part of Italy are the Italian cayenne, the dog's nose, amando, sigarette, and ciliegia.
Calabria's consistently warm sunshine creates the ultimate climate for growing chilies, and this sunshine is reflected in the aroma and taste of the peperoncini flakes. If you find yourself in the area during the late summer, you'll notice strings (filas) of chilies hanging to dry on porches and beams all over. Regional specialties that use peperoncini include 'nduja, fried chili crisp condiments, and vinegar and oil infusions.
Flavor & Aroma
Peperoncini come in a variety of forms. Most likely, you've seen the spicy yellow or green peppers picked in brine at Italian restaurants or delis. Because of a growing demand for high-quality dried chili flakes, we've been able to source fantastic chilies from the Calabrian region of Southern Italy. The warm climate on the mountainside has the perfect conditions for growing a wide variety of these chilies. Most are narrow to medium in size with a medium level heat.
Dried peperoncini, which we sell here at La Boite, have a bright citrusy and acidic aroma with sweet and sour notes that accompany a mild heat. Use them as a final seasoning on raw dishes or as a heat component in a spice blend. Our peperoncini flakes and bright orange and deep red in hue, with little to no seeds and a medium-coarse grind.
Origin
Native to South and Central America and later Italy. Cultivated in Italy, Greece, and the United States.
Harvest Season
Traditionally, chilies are fully ripened on the vine. Once harvested, they are strung up in a well-ventilated place to dry.
Usage Ideas
1. Season a thinly sliced fresh plum with peperoncini flakes and arrange on top of ricotta toasts.
2. Marinate a sliced fennel bulb with olive oil, lemon juice, capers, and peperoncini flakes before sautéing and serving with roast chicken.
3. In a blender, purée cooked white beans, olive oil, fresh basil leaves, white balsamic vinegar, and peperoncini flakes for a smooth spread or side dish. 
Other Pairings
Spinach frittata • Lemon risotto • Jerk chicken • Shrimp and grits • Grilled sardines • Arrabbiata sauce • Bomba Calabrese
Recipes Using Peperoncini