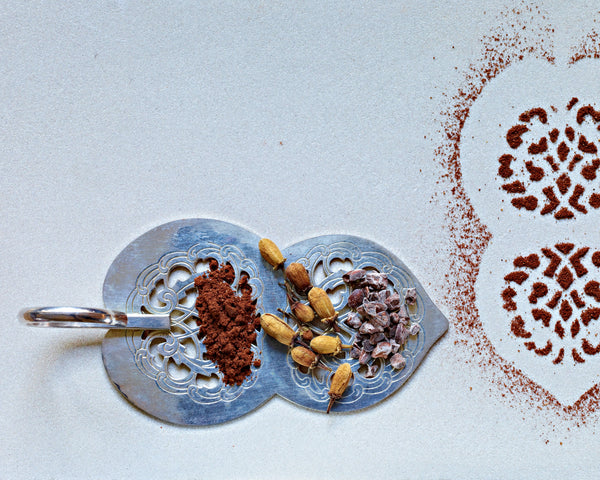 Apollonia N.29
Each month, we highlight one of our spice blends in the hopes to better educate our clients and to inspire them to try new flavors. La Boite's founder, Lior Lev Sercarz, has formulated each blend to elevate your culinary experiences. Every blend is inspired by a person, a place, or a dish, with the flavors working together to tell a story.
Apollonia N.29
This spice blend's namesake is attributed to Apollonia Poilâne, third-generation owner of Poilâne bakery in Paris. Her grandfather opened the bakery in the 1930s and it has since become one of the most famous bakeries in Paris.
However, it isn't Apollonia's baking mastery that inspired this blend, but rather her stories of being a member of the exclusive Club des Croqueurs de Chocolat, which regularly gathers for tastings. After hearing about these experiences, Lior created Apollonia N.29, a blend of cocoa powder and orange blossom. The flowers of oranges have intense notes of honey and clove, so pairing those flavors with chocolate makes perfect sense.
This blend is well suited for savory and sweet applications. Apollonia uses it in her French-style gingerbread sold at Poilâne, but it's also great with dishes like roast duck or braised short ribs. 
Enjoy 15% off Apollonia N.29 throughout the month of March with code apollonia15. 
Ideas for Use
Toss cubed kabocha squash with vegetable oil, Apollonia and a splash sherry vinegar. Baked at 350º until tender.
Whisk 1/3 cup cider vinegar with 2/3 cup grapeseed oil and 1 tsp Apollonia and use to dress a shrimp and spinach salad. 
Coat guinea hens with vegetable oil, sprinkle with Apollonia and roast. 
Recipes Using Apollonia N.29