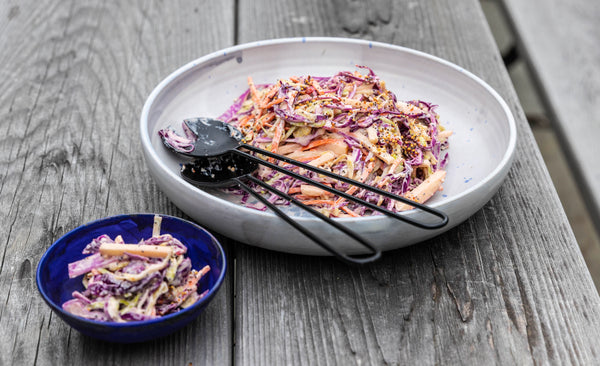 Products We Love: Tahina
La Boite Tahina
Introducing our new La Boite Tahina as part of our Voyager Collection in collaboration with Eric Ripert. This tahina is made with stone ground Ethiopian Humera sesame seeds in Israel and is an essential ingredient in our kitchens!
We love tahina because of its immense versatility. It's great as a dressing or condiment, but is also a traditional ingredient in dishes like hummus. Tahina is also super creamy, so it can add a lot of decadence to baked goods too.
Recipes Using Tahina
By ditching traditional mayonnaise and using tahina and labne, this slaw gets tangy and nutty flavors. Caraway, peperoncini, poppy seeds, and mustard seeds make up the spice blend for this recipe. 
Msabbaha is a sort of hummus variation made with whole chickpeas rather than blended smooth. It's super easy to throw together and can be spiced up with whatever spices you like!
These crumbly, soft, nutty cookies are utterly delicious and a great blank canvas for spices. Try them with cinnamon or cardamom!
A healthy vegan dinner, just roast your vegetables in the oven and add in chickpeas for protein. This bowl is also topped with turmeric tahini sauce.
Tahina is great used in dressings to make them dairy free, yet is still rich and creamy. It also cuts through the bitterness of kale and radishes here.