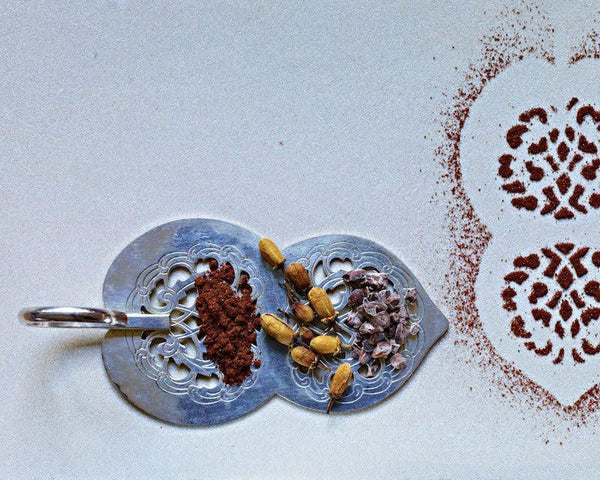 Our New Biscuit Collection with Apollonia Poilâne
Apollonia Poilâne and our new biscuit collection
Thank you Apollonia! Can you tell us a bit about what inspired the collection?
My sister did a collection with Lior in the late 2000s. It planted the seed of an idea for the future. As I worked on my grain biscuit recipes, the idea of a collaboration naturally grew on me.
And also the story behind the Apollonia blend?
Lior imagined that blend after we met. I love it because it has two of my favorite taste and flavors: cacao and orange blossom.
Your book is due to be released at the end of the month, what's something unexpected you learned while creating it?
Just how much grain is present in our culture, and so much about foreign uses of grain that was new to me.
Oh and if you can share a recipe?
Of course. Here is a recipe for Black Pepper Pan de Mie.
And what's something very few know about you that you'd love for people to know?
I LOVE tasting new flavors!
Thank you Apollonia!
Our current biscuit collection is a collaboration with Apollonia and can be ordered here:
Apollonia's new book is available for pre-order on Amazon here:
Poilâne: The Secrets of the World Famous Bakery
And please follow her for more updates
Apollonia Poilâne
Apollonia Poilâne is the third generation to run the bakery founded in 1932 by her grandfather in the Saint- Germain-des-Pres district of Paris, and developed both in France and internationally by her father Lionel Poilâne. Cradled in a bread basket by the passion that her father vowed to his craft, Apollonia naturally chose her path.
She feeds her own passion by learning and working in the bakery on the Rue du Cherche-Midi, where her father also learned his trade. Following the accidental death of Ibu and Lionel Poilâne in 2002, Apollonia and her sister Athena ensure the continuity of the family business. From 2003 to 2007, Apollonia presided over the company while studying economics in Boston. Organizing regular exchanges with her teams, phone calls, emails, video conferencing, and frequent trips between Boston and Paris enabled her to work full-time overseeing her managers.
Apollonia fully adheres to her father's philosophy: favor quality over quantity. She is also a worthy successor to the "retro-innovation" culture dear to Lionel Poilâne: take the best of the past and combine it with the best of the present. Apollonia has not changed the manufacturing methods. More than 85 years after the founding of the bakery, Poilâne ® breads are always leavened, handmade and baked over a wood fire.
At the same time, Apollonia is resolutely turned towards the future. Since she took the business over, Apollonia opened 2 more boutiques in Paris and a second UK address in Chelsea London. The introduction of new products (Gingerbread, Spoon Shaped Butter Cookies, Granola, Pepper Bread, Buns, Yule Logs, Cornbread, Grain Flour Biscuits...), and the development of the dealer network, in France and abroad, testify to the will of Apollonia to move forward .