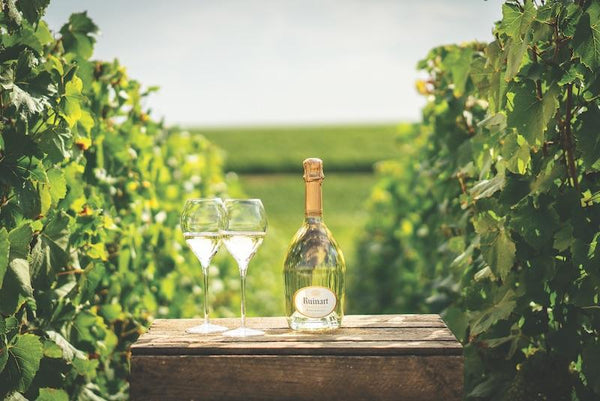 Frédéric Panaïotis and Our New Sillery Blend
One year later and we are back with Frédéric Panaïotis, Chef de Caves for Ruinart Champagne and our collaborator on the new Sillery spice blend, designed to create dishes to pair with Ruinart's blanc de blancs champagne.
We are honored and excited to debut a blend to pair with Ruinart blanc de blancs, can you tell us a little bit more about the name Sillery?
It means a lot to us. It is a village in Champagne, and one of only 17 grand cru parcels in all of Champagne. It has a historical meaning for us, as Ruinart's first vineyards are there, from 1733. And Sillery is also the only vineyard where chardonnay is predominant in the Montagne de Reims (hence us associating it with our BdB), and the wines from this village play an important role in our cuvées.
Thank you! We're happy to continue introducing people to champagne as a drink to pair with food, what are some of your favorite things to eat with Ruinart BdB?
I have a very special recipe, a tartare of delicate white fish (like sea bass), high quality lemon-infused olive oil, grated ginger or galangal, some of the Sillery blend, and a sprinkling of crunchy salt.
Excellent also is tempura featuring delicate vegetables: okra, matsutake mushrooms, and anything crispy and fresh.
One last one is lump crabmeat with guacamole and grapefruit supremes.
Those all sound great, of the sillery suggested pairings, do you have a favorite?
The tartare of course!
Thank you, and for people who are not familiar, what are the basic differences between vintage and non-vintage champagne?
Well of course it has to be from a single vintage (year), so it cannot be made every year. When the year is good we select the highest quality grapes for our vintage champagne. And the aging time in the cellar is much longer, so vintage champagne will tend to have more weight and a richer flavor. While the blanc de blancs is straightforward and clean, and can be drunk as an aperitif, the Dom Ruinart requests food to shine. Preferably foods like butter and lobster, or potato pancakes with crème fraîche and caviar.
Got it. Do you have any upcoming vintages you are particularly excited about?
Yes! 2010 which was tremendous and should be released in late 2022. And 2009 which will be out next year. It was a challenging year in some ways, but an excellent one for chardonnay.
How is the free-diving going?
I'm still loving it. I'm on my way to Egypt currently for 7 days and will visit some sites there, and will be in Hawaii next year. I've found it to be a sport that really can get better with age!
Thank you. What's something else not a lot of people know about Ruinart that you'd like for more people to know?
While our BdB is our most famous cuvée, our rose is the oldest, and I think it's ideally suited to winter dishes like the ones we talked about last time.
Thank you Frédéric!
The Sillery blend is available to purchase here.
Our first interview featuring the 1764 blend and Ruinart Rosé is here.
Follow Ruinart for more updates
Frédéric Panaïotis
Frédéric Panaïotis is Chef de Caves at the Champagne House of Ruinart, in Reims, France.
As a child, Panaïotis spent much of his time in the small Champagne vineyards of his grandparents, sampling the fruits of their labor. His professional career began with a compulsory training period at the Comité Interprofessionnel du Vin de Champagne, where he studied the méthode champenoise process in general and wine clarification in particular, including fining, filtration and riddling.
Over the years, Panaïotis returned several times to the Comité, subsequently specializing in the interaction of cork and wine, and training the professional panel on different tasting procedures. His winemaking apprenticeship included appointments in France and California.
Panaïotis graduated from the Institut National Agronomique Paris-Grignon with a specialization in Viticulture-Oenologie, followed by a degree from the Ecole Supérieure d'Oenologie de Montpellier in 1988.
Frédéric Panaïotis joined Champagne Ruinart in 2007 as Chef de Caves. In this position, he has the responsibility of creating the blends, from the non vintages Blanc de Blancs and Rosé to the prestige cuvées of Ruinart, Dom Ruinart and Dom Ruinart Rosé. He also plays a significant role in the communication efforts of Champagne Ruinart, traveling extensively to international markets.