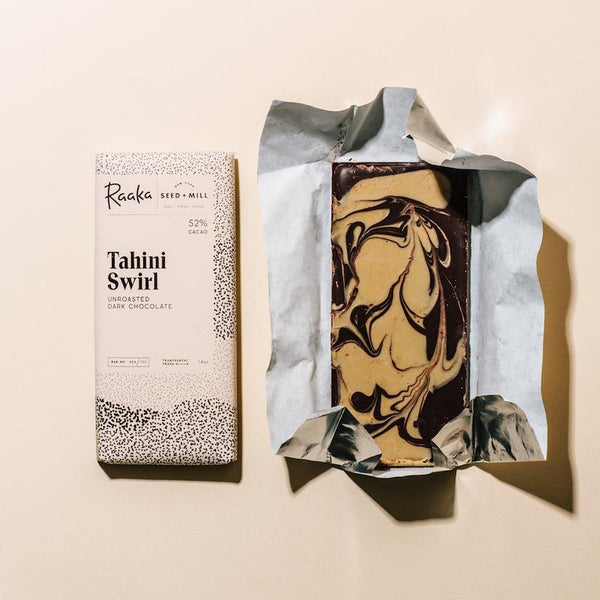 Rachel from Seed + Mill
It's been (4!) years since we last sat down with our friends at Seed + Mill. This month we have an interview with co-founder Rachel Simons and are proud to announce our latest batch of collaborative hamantaschen.
First off, what's new with you all? It's been quite a while!
How did 4 years pass by so quickly! It feels like yesterday that we first reached out to you to discuss a spice collaboration! And here we are, about to launch a couple of new custom blends! So excited to be collaborating with La Boîte again on a Japanese Togarashi spice and Everything Bagel spice mix!  It's also lovely to be building annual traditions with you - like our Halvataschen collab we are bringing back this week. We put up a note about this on Instagram a few days ago, and I swear, they are almost sold out already!!!
Cool! What are a few of the most exciting things that have happened over the last 4 years?
Um, where to start on that?! The life of an entrepreneur is like a long journey with many mountain tops to enjoy and a few valleys along the way too! So, in all honesty, there's been lots of excitement and lots of challenges too!  I think the most exciting business change for us was launching our new halva packs for retail stores last September - because it really gives us an opportunity to introduce our products to a much wider audience and eventually scale into a national brand.  Oh, and maybe the Oprah Magazine tahini feature we had last week!  It's pretty exciting when Oprah believes in your product :) 
Any favorite recipes that involve tahini or sesame?
There are almost too many to choose from! But, probably my favorite would be Michael Solomonov's simple, yet classic, tahini shortbread recipe or maybe Yotam Ottolenghi's halva brownie, now a cult recipe too! Of course, I am obsessed with the Sesame & Za'atar blend that La Boîte has made for us and I use it almost daily on eggs, salads, fish etc. It's going to be a tough battle to now decide between this and the new blends!
Have you noticed a change in how people view sesame and halvah?
Halva and tahini is becoming more available in grocery stores and visible on restaurant menus. 5 years ago, people largely only used tahini for making hummus. These days, it is used for smoothies, cookies, sandwich spreads, dips, milkshakes and, our award winning tahini soft-serve! I love seeing the versatility of our products and the innovative ways people are using sesame!  We collaborated with Raaka Chocolate last year on a delicious tahini swirled chocolate bar and it sold out in 24 hours. Clearly people are excited about sesame!!
Thank you! We're delighted to work with you as always and look forward to many more spicy years ahead!
Follow Seed + Mill for more updates
Seed + Mill precisely roasts premium Ethiopian sesame seeds, milling them on site to produce fresh tahini, halva, and a refreshing tahini soft serve. They have partnered with La Boîte to produce three co-branded sesame blends, Sesame & Za'atar, Togarashi, & Everything Bagel. Visit them at Chelsea Market, seven days a week, 10am-8pm, and experience them breathing new life into an ancient seed.
Rachel is an Australian foodie, who moved to New York in 2014 with her family. She co-founded Seed + Mill in 2016 and is a founding director of Australia's first social enterprise bakery, The Bread & Butter Project. She is also a mom to Annika and Oliver and her beloved Dachsund, Buddy!