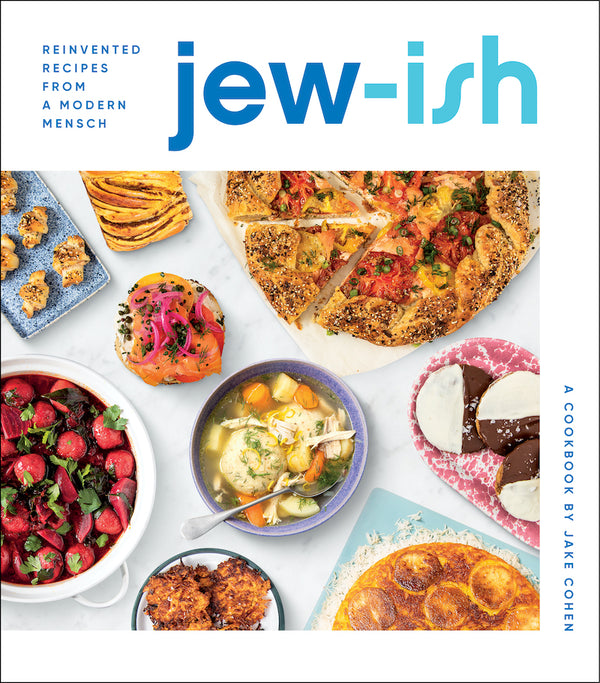 Jake Cohen: author of Jew-ish
Our friend Jake Cohen has a book that just came out, Jew-ish. See below for our interview where he shares all about it, including a spicy recipe for Baharat Smashed Potatoes.
First we'd love to know more about the book, what fun and tasty things can we expect to find inside?
I keep saying again and again that this book is first and foremost the love story between myself and my husband. He's Iraqi-Persian-Jewish, so when we met he had no clue what babka was and likewise, I had never heard of kubbeh (both of which you can find in the book). This journey of exploring each other's Jewish food cultures led to some traditional recipes, some very nontraditional takes, and many culinary mashups.
What's one of your favorite things to make when you don't really feel like cooking?
I'm very, very into one-pot pastas. I have an extremely lazy take on ash-e-reshteh that I call Persian-ish Pasta since it's such a departure in technique. I just saute some onions with turmeric, throw in linguine, water, canned beans, chopped spinach, and herbs and call it a day. It offers a taste of that comfort food to satisfy when you don't want to spend all day cooking.
How about a fun recipe to share with our readers?
I adore
smashed potatoes
!! I think they're the perfect crispy starch to serve with any dish. In the book, I season them up with baharat and finish with schug for some warmth and spice!
You're trapped on a desert island with only one spice, what would it be?
SUMAC
! I put it in everything, savory and sweet. It adds the perfect floral tartness to anything it touches. 
What's the best thing you've had to eat recently?
Take out from Pennybridge in Long Island City, Dan Kluger's new restaurant in my neighborhood. Best burger and fried chicken I've had in a long time!
Anything else you'd like to share with our readers?
This cookbook is truly for Jews who love food and foodies who love Jews. It's a celebration of culture while constantly exploring what Jewish food can be. The entire book was developed and tested at Shabbat dinners to prove that it's meant to be used to cook for loved ones! 
Thank you, and thanks for your time and for sharing with us!
Support your local bookshop by purchasing here.
For more updates from Jake, you can follow him here:
About Jake Cohen
Jake Cohen is a bright new star in the food world, a former food staffer at Saveur, then food editor of Tasting Table and Time Out New York, and most recently the editorial and test kitchen director of social media juggernaut the Feedfeed. When he isn't writing about food for publications including Food52, Food & Wine, and Real Simple, he's posting challah braiding videos and recipes on his Instagram and TikTok (@jakecohen). He lives in New York City with his husband, Alex.