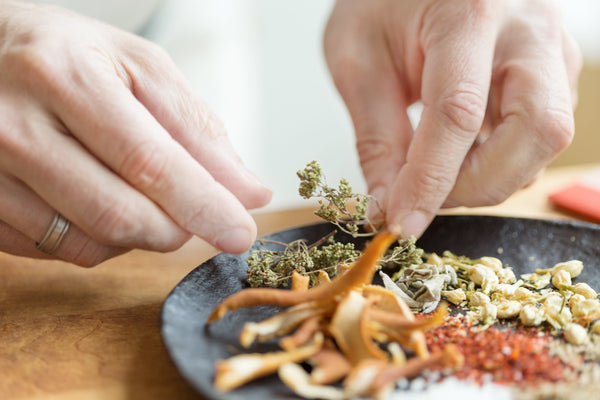 Uma Naidoo, This is Your Brain on Food
Here's an interview with our friend Uma Naidoo, nutritional psychiatrist, chef, nutritionist, and author of the newly released book This is Your Brain of Food. She sits down with us to answer a few spicy questions and share a recipe.
What was your inspiration for writing the book?
I feel strongly that people understand how to eat for heart disease, diabetes or even hypertension, but no one talks about the connection between how food can impact mental health. This pandemic has worsened our mental health, causing stress, depression and anxiety - and now more than ever we need additional tools to support our mental health. Nutrition and spices are a big part of this.
Thanks! What's one of the most surprising things you came across in your research?
Saffron can help depression! As can turmeric! Here is a link to the journal article for anyone who wants to read more.
Do you have a recipe you can share from the book?
Yes, my Masala Roast Chicken. The version in the book is for chicken breasts, this version with a whole chicken is a variation I did for La Boîte readers.
Looks great! What are some of the known benefits of adding spices to your cooking? (aside from making your food more delicious of course)
Speaking specifically to your brain and emotional health:
Turmeric lowers anxiety, depression, inflammation and is a powerful antioxidant
Oregano can help your mood
Juniper berries, sage, thyme, parsley and dried Mexican oregano help to reduce brain fog
What's one of your favorite spices to use in your cooking at home?
My grandmother's recipe for homemade masala - a rich, colorful blend of spices used as the base for South African Indian cooking - some of spices included are Kashmiri chili, coriander, dehydrated curry leaves and cumin.
Sounds great! Thank you and we're happy you book is out so people can explore the ways in which spices can support mental health and well-being.
Uma's book, This is Your Brain on Food, is now available!
Michelin-starred chef David Bouley described Dr. Uma Naidoo as the world's first "triple threat" in the food and medicine space: a Harvard trained psychiatrist, Professional Chef graduating with her culinary schools' most coveted award, and a trained Nutrition Specialist. Her nexus of interests have found their niche in Nutritional Psychiatry.
Dr. Naidoo founded and directs the first hospital-based Nutritional Psychiatry Service in the United States. She is the Director of Nutritional and Lifestyle Psychiatry at Massachusetts General Hospital (MGH) & Director of Nutritional Psychiatry at MGH Academy while serving on the faculty at Harvard Medical School.
She is considered Harvard's Mood-Food expert, and has been featured in the Wall Street Journal.