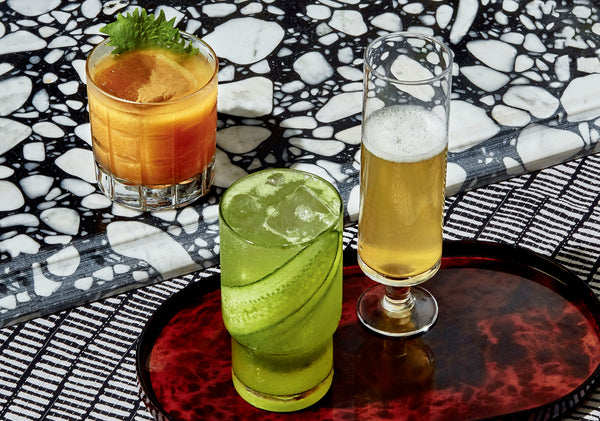 Good Drinks by Julia Bainbridge
Our friend Julia Bainbridge recently wrote a book, Good Drinks: Alcohol-Free Recipes for When You're not Drinking for Whatever Reason. See below for our interview with her where she shares her thoughts, more about the book, and a recipe!
Hi and thank you, what was the inspiration behind this book?
I removed alcohol from my life, serendipitously, right around when alcohol-free beverage options started getting more interesting, and I wanted to celebrate the innovation I was seeing in bars and restaurants across the country.
What's a surprising and/or fun thing you learned while you were doing your research and development?
I have so much more respect for bartenders now. Liquid is difficult!
Haha yes indeed. Any recipe from the book you are particularly proud of that you would like to share?
Mike di Tota's Billows & Thieves, the perfect winter brunch cocktail.
Thanks! Desert island spice?
Ararat N.35, because I like heat and smoke and it would work in drinks (a Bloody Mary comes to mind) in addition to on food--really, any kind of food.
Anything else you'd like to share with our readers?
I want you to have fun making the drink above. Remember fun? Cheers!
Thank you, and thanks for your time and for sharing this recipe with us!
Good Drinks can be purchased here.
For more updates from Julia, you can follow her here:
 About Julia Bainbridge
Julia Bainbridge is a James Beard Award-nominated writer whose stories have been published in The New York Times, The Wall Street Journal, The Washington Post, and Food & Wine, among others. Her book about nonalcoholic drinks, Good Drinks, is out now, and has been named one of the best cookbooks of 2020 by the Los Angeles Times and Wired and Esquire magazines.