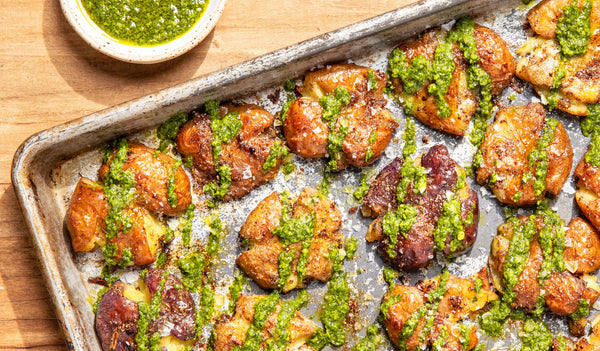 Baharat Smashed Potatoes
Plain and simple, smashed potatoes are the best potatoes. Combining the best aspects of all preparations, you boil baby potatoes for the creaminess of a baked potato, but then smash them to jack up the surface area before roasting, resulting in a level of crispiness even a french fry could not achieve. This is the only recipe that never seems to yield any leftovers, no matter how much extra I make. I personally think the magic is all in the seasoning.
This mixture is my super-simplified recipe for baharat, an essential Arabic spice blend integral in Iraqi Jewish cooking, which combines warm spices like allspice and cardamom with sharper spices like black pepper and cumin. Every family truly has their own blend, so it's not uncommon to find fennel seeds, rosebuds, nutmeg, chiles, or a laundry list of other aromatics present as well. It's becoming more and more common to find jars of premixed baharat at specialty spice shops, so feel free to sub 11⁄2 tablespoons of your favorite baharat blend in lieu of the spices called for here.
To finish off these crunchy spiced potatoes, a drizzle of schug on the finished platter helps provide the zip that makes this dish truly irresistible.