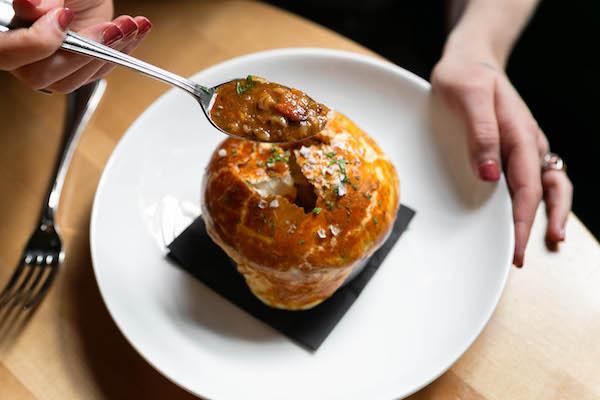 Custom Abe Fisher Spices
It's been 2 1/2 years since we last caught up with Yehuda Sichel, executive chef and partner at Philadelphia's Abe Fisher. Since then Lior and Yehuda have cooked together at the inaugural Maccabi games culinary competition, and we've produced a line of spices just for Abe Fisher.
© Alexandra Hawkins
Thanks for taking the time to talk with us and share a couple recipes. Can you first let us know about the three blends and the inspiration behind them?
Of course! The Pastrami spice was inspired by our signature dish at Abe Fisher, the Montreal Smoked Short Ribs. We wanted to make a simple spice for making any smoked meat taste like pastrami. As for the the Goulash, that spice is three types of paprika and dried tomato. It's actually kind of funny – I never ate goulash growing up. But when Mike, Steve and I went to Hungary back in 2011, goulash was everywhere. I took the experience to heart and started to incorporate that flavor into the dishes that I make here as soon as we got home and haven't looked back. And then Everything Bagel spice – the "everything bagel" is the king of bagels. It's the pepperoni pizza of bagels. We use it as everyday seasoning, and actually most often for seasoning fish.
Got it, you have two recipes to share, can you let us know a bit more about the inspiration behind them?
On Saturdays growing up in Baltimore, my family and I would go to shul and services would always be followed by cholent. They would serve it at the synagogue, and my family would serve it as part of our big Shabbat lunch when we got home. At home, we always had a vegetarian version and one with meat. Over the years I've refined the way I make it but I knew when I made it at the restaurant, we'd have to make the tradition into more of a celebration. So we made it a pot pie with puff pastry –– my take on one very Jewish dish.
© Alexandra Hawkins
It was actually Steve's idea to make the
pastrami onion jam
for our chopped liver mousse. It works because you can never have too many caramelized onions, and that sweet-and-sour flavor really compliments the liver. It's similar to a bacon and onion marmalade, just the Jewish version.
© Alexandra Hawkins
Thanks! Switching gears a bit, what's an accomplishment over the last couple years that you're particularly proud of?
We're in our fifth year at Abe Fisher and I can feel the restaurant growing. More people are doing the short rib menu than ever before, which is huge. And I'm proud of the way our kitchen is always challenging itself to find new life in a very old cooking style.
What's something not everyone knows about you that you'd love for people to know?
I taste everything, but I don't usually eat a ton of the food I cook. Healthy eating and living is a huge priority in my life. It's my other passion.
And what's the best new thing you ate recently?
The caviar dish at Nick Elmi's Laurel on East Passyunk. It was some sublime combination of vanilla ice cream, puffed potato, and caviar. So good.
The 3 pack of Abe Fisher spices is available here
Follow Abe Fisher for more updates from Yehuda
Yehuda Sichel is the Executive Chef and Partner of Abe Fisher in Philadelphia. A restaurant from James Beard Award-winning restaurateurs, Chef Michael Solomonov and Steven Cook of CookNSolo Restaurants, Abe Fisher is inspired by the journey of the Jewish people from their ancestral homeland to the Diaspora.
Sichel came to work for Chef Solomonov at CookNSolo's ground breaking Israeli restaurant Zahav in 2010, fast rising to the rank of Sous Chef. Four years later, he began making his own culinary mark at the helm of Abe Fisher, cooking a menu that speaks to the Jews' movement across Europe throughout the Middle Ages – paying homage to centuries of tradition while embracing the idea that cultural exchange places cuisine in a continuous state of evolution. Abe Fisher has earned a 3-Bell "Excellent" review from Philadelphia Inquirer food critic, Craig LaBan, who sited Chef Sichel's signature dish of Montreal Smoked Short Ribs as the "Feast of The Year" in 2014. That same year, Food Republic called the dish "smoked meat nirvana," and Zagat named Sichel as one of 30 "Rock Stars Redefining the Industry" in Philadelphia. Abe Fisher was named "Best New Restaurant" in the January 2015 issue of Travel + Leisure, and the restaurant earned a semifinalist nomination in the 2015 James Beard Award's "Best New Restaurant" category. .