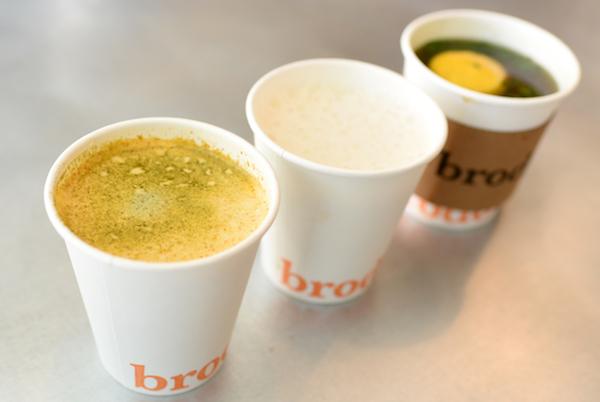 Marco Canora - Brodo and Spices
We're excited to sit down with Marco Canora this month. He discusses Brodo, his increasingly popular broth shop, spices, the future of food, and shares a great broth recipe.
© Danielle Adams
1. We're very excited to have collaborated with you on the spices for your new products at Brodo, can you tell us a bit about a couple favorite flavors?
We are thrilled with our collaboration as well - all of the blends you've helped us create are fantastic! The Tom Yum spice is by far my personal favorite and a customer favorite as well... when combined with chili oil, coconut milk and a squeeze of lime it's pretty damned addictive. The BBQ spice runs a close second in terms of popularity - it has a slightly smoky sweetness that complements the "texas two-step" in a way that amplifies the inherent beefiness of the beef broth and bone marrow.
2. This season is a perfect time for something warm, can you explain what Brodo is and some fun ways to enjoy it?
Brodo is hot broth served as a hot beverage in a coffee cup with a sip lid. We serve four broths: a traditional chicken broth, Hearth broth (made from turkey, beef and chicken), gingered beef broth, and a veggie broth made from shiitake, seaweed and vegetables. Alongside the broth we offer 21 add-ins like ginger juice, turmeric, spiced butters and bone marrows that give our customers an opportunity to customize a beverage to their liking. The full menu is here to get a better idea. And as there is no denying the importance of good broth in a cook's kitchen, we also offer quarts of the base broths to take home and do with as you wish.
© Danielle Adams
3. Fantastic. Would you mind sharing a recipe for readers who can't make it to your shop in NYC?
Sure! This is our signature broth. It's a fantastic base for many dishes and of course great to drink on its own. It's from our cookbook which you can also check out here for this and tons of other great recipes.
Hearth Broth
Makes about 6 quarts
2 (2- to 3-pound) stewing hens
2 (1-pound) turkey drumsticks
3 pounds beef shin bones with meat
3 large onions, peeled and roughly chopped
6 celery stalks, roughly chopped
3 large carrots, scrubbed and roughly chopped
1 (14.5-ounce) can whole peeled tomatoes
10 sprigs flat-leaf parsley
1 tablespoon black peppercorns
Fine sea salt
Directions
Place all the meat in a 16-quart pot and add cold water to cover by 2 to 3 inches. Bring to a boil over high heat skimming off any foam every 15 to 20 minutes.
As soon as the liquid boils, reduce the heat to low and pull the pot to one side so it is partially off the burner. Simmer for 2 hours, skimming once or twice depending on how much foam forms.
Add the onions, celery, carrots, tomatoes, parsley, and peppercorns and push them down into the liquid. Continue to simmer for 3 to 5 hours, skimming as needed and occasionally checking to make sure that the bones are fully submerged.
Use a spider skimmer to remove the solids. Set the meat aside to cool, then pull it off the bones and reserve to make Polpettonne. Save the bones to make a remy (see page 73) or toss them out. Strain the broth through a fine-mesh strainer. Season with salt to taste and let it cool.
Transfer the cooled broth to storage containers (leaving any sediment in the bottom of the pot) and refrigerate overnight. Skim off any solidified fat from the top and store the broth for up to 5 days in the refrigerator or freeze for up to 6 months.
4. How did Brodo start and what are you most proud of having accomplished so far?
Brodo started out of the side door of my restaurant Hearth in the East Village in November of 2014. I'd found myself drinking broth as a beverage for a couple years and kinda had a eureka moment, decided to bootstrap it together with the resources around me…the local rubber stamp store provided my branding with the help of a friend (Steven Solomon) who's a talented graphic designer.. simple white cups, an orange awning, a bunch of pump pots and squeeze bottles... you get the idea…
Proudest moment?? Without question it's been the partnership we've created with NYU Langone center. We are serving Brodo every afternoon to new and expecting mothers on the Maternity ward!! From day one we've thought that broth could be a great addition to hospitals' food and beverage programs.
5. That's fantastic! While we're on the topic, what changes would you like to see in how Americans relate to food and to the restaurant industry?
I would love to see consumers re-calibrate how they perceive value. We have been fed this idea that value comes from low priced, large portioned food. We are obsessed with "cheap eats" – they may temporarily satisfy a craving but they typically do nothing to make your body or brain function better. Food is nourishment - a source of vitality, we should determine value based on nutrient density – it goes without saying that it should taste delicious as well.
6. Any projects or future plans you'd like to share with us?
Simply getting more cups of broth into more peoples' hands.. and just maybe Brodo at the 2018 Winter Olympics!!!
© Danielle Adams
Follow Marco and Brodo for more updates
Marco Canora is asking people to "rethink your hot beverage." His takeout window,

Brodo

, serves nourishing, sip-able bone broths out of coffee cups; think of it as a savory drink for the cold months in NYC and

Brodo

's first-ever brick-and-mortar store recently opened in the West Village. Canora boils bones for hours to make organic chicken, gingered beef and "Hearth" broths that can be customized with a variety of add-ins, including ginger juice, seaweed, freshly grated turmeric and shiitake mushroom tea along with quality fats, such as 100% grass-fed butter and bone marrow, blended straight into the broths to create rich, frothy beverages.