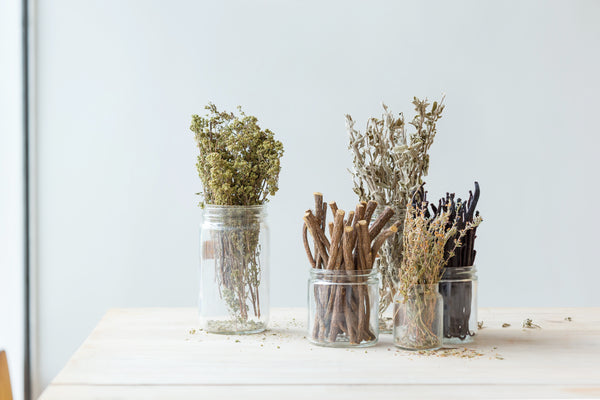 Brandon Shapiro of Wildwood Kitchen: Spice Dinner August 9th
Brandon Shapiro is the Chef de Cuisine at Bethesda's Wildwood Kitchen. Next month on August 9th he and Lior will be doing their second spice dinner together. This month we sit down with Brandon to get to know him better and talk spices!


We're delighted to be joining you for a Spice Dinner on Wednesday August 9th. The first one was splendid and we are excited to build on it and introduce more people to the magic of spices. In this interview we'd love to get a better sense of who you are, what inspires you, and what you love about spices. First, what's your favorite thing about your job?
My favorite thing about being the chef at Wildwood Kitchen is getting to work with an amazing team in the kitchen to create interesting and memorable dishes that use the very best ingredients we can serve – all with the tremendous encouragement and expert guidance of chef / owner Robert Wiedmaier. The guests who come to Wildwood Kitchen are very much like family as we are happy to welcome so many from the surrounding residents in our restaurant several times a week. We would like to think that they consider us an extension of their dining room table. I look forward to their next visit and to surprise them with new flavors of the season.
That's great! What dish on Wildwood Kitchen's menu are you most proud of and what's the story behind it?
The dish I'm most proud of is our Falafel Crusted Ahi Tuna. My Sous Chef and I just got in some beautiful sushi-grade Ahi Tuna and were discussing the idea of doing a chickpea crust with La Boîte's Shabazi spice blend. Once we started testing the dish, we realized the crust tasted almost exactly like a falafel and contained many of the same components that go into a falafel. After serving the Falafel Crusted Ahi Tuna Dish for a special dinner, we received such an exuberant response from our dining guests that we decided to give it a permanent place on our menu. It remains one of our most popular dishes.
Do you have a simple recipe idea that you can share with our readers?
A simple recipe that we do at Wildwood Kitchen is our house-made Lemon Ricotta, which we'll be using within our "Israeli Salad" course of the upcoming spice dinner. To make it, we bring whole milk to a Simmer on low heat infusing it with the Vadi Spice Blend. Once the milk reaches a simmer, we add kosher salt, lemon juice, lemon zest and a drop of lemon oil. Once the milk curdles we strain it through cheesecloth and cool.
What is your favorite herb/spice and why?
My favorite spice blend would have to be Za'atar because it truly sparked my passion for spices and Israeli cuisine. Walking through the Shuk of Machane Yehuda in Jerusalem on my first visit to Israel, I was blown away by the towering sculptures of Za'atar found in the various spice stalls throughout the market. I brought a bag of it home and began preparing dishes I enjoyed in Israel. I haven't stopped cooking them since. On the menu, Za'atar seasons our flatbread for the beet salad, and our octopus dish is marinated in the wonderfully pungent spice mixture.
Tell us a bit about the menu you and Lior are serving on the 9th, which dish are you most excited about?
When Lior and I discussed how we wanted to approach designing the menu for our upcoming spice dinner, we both agreed that the overall goal should be to highlight the amazing ingredients the summer season has to offer and, of course, showcase the amazing spice blends you make at La Boîte. One of the dishes that I am most excited about is the Citrus Marinated Ahi Tuna with Compressed Watermelon, Avocado, Serrano Chile, Thai Basil and Lemongrass Tomato Water. Compressing the watermelon with the Combava spice blend is a great way to showcase the subtle Thai influence with Kaffir Lime Leaves, Lemongrass, Galangal and Basil. Overall, the dish is a very flavorful and refreshing way to begin the meal.
And what would you like to see people eating more of?
I'd love to see more people embracing Israeli cuisine. With the Mediterranean diet becoming popular and the movement to begin eating healthy and shy away from heavy sauces, butter, cream and processed foods, I can't think of a better type of cuisine that highlights this concept while still providing tons of flavor. Mediterranean sensibilities have been one of the foundations of Wildwood Kitchen's cuisine since it opened, so incorporating influences from my heritage with specific flavor profiles complements the restaurant's brand.
Follow Wildwood Kitchen for more updates
At Wildwood Kitchen by chef Robert Wiedmaier, chef de cuisine Brandon Shapiro's gift for turning out dishes with authentic Mediterranean influence is second nature. Born in nearby Rockville, MD, Brandon grew up in the kitchen. As part of a big Jewish family that loved to cook, he learned from a young age the nuances of his ancestral comfort food at the hand of his mother and beloved grandmother .
Thanksgiving and Hanukah dinners were full feasts with cousins, aunts, uncles and relatives gathered around the table. Long hours in the kitchen led to lengthy dinners over homemade matzo ball soup, borscht, latkes and blintzes.
While in high school, Brandon's zeal for cooking led to a part-time job at a family friend's French-country restaurant, La Miche, in Bethesda. It was here that the chef suggested he turn his talent into a career and apply to the Culinary Institute of America.
Upon graduating from the CIA's flagship campus in Hyde Park, NY, he set off to cut his teeth in the kitchens of some of the country's most revered chefs, starting at Alain Ducasse's Adour followed by three years at Jean Georges at the W Hotel in DC. Channeling his Franco-European skills, he was chosen for a position as sous chef at Robert Wiedmaier's casual Belgian restaurant Mussel Bar & Grille in Bethesda where he flourished under his mentorship.
With deep interest in his heritage—and well before Israeli food was on the map—Brandon took an eye-opening Birthright trip to the State where he learned of foods far beyond falafel and hummus, discovering its fusion of influences from Morocco to Lebanon. Recognizing his talent and flair for Israeli cuisine, Wiedmaier tapped Brandon to be executive chef at Wildwood Kitchen, which draws from the 23 countries surrounding the Mediterranean without the use of butter or cream .
It is here that Brandon is wholly in his element. Given latitude to explore different flavors, he took the culinary direction from the Italian and French side of the Mediterranean to its eastern shores. Within his first year, he hosted an Israeli wine dinner, which cemented his shift to that exotic region. Sourcing from purveyors who share his passion, he now brings in authentic spices from acclaimed Israeli-born spice guru Lior Lev Sercarz of La Boîte in NYC and the all-natural tahini by the Soom sisters. Shapiro's culinary training has brought him to countries that span the Mediterranean in a way that is at once full circle and wildly serendipitous.