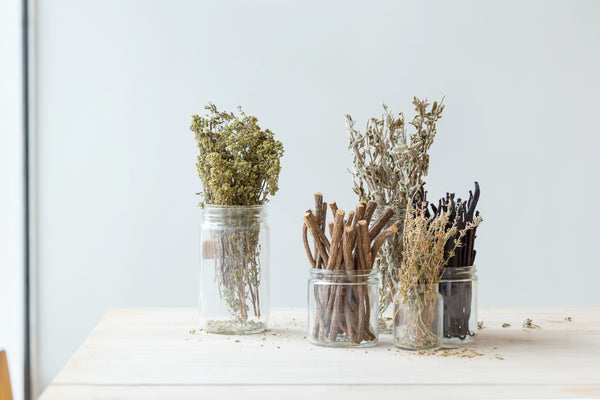 Bringing The Spice Companion to Life
Nadine Westcott and Thomas Schauer are the illustrator and photographer behind the stunning images in Lior's new book The Spice Companion. Read about their experiences, how they now see spices, and more.
1. What was the best part of working on The Spice Companion?
Thomas - The best part, for me, was what an amazing learning experience it was. I loved listening to all of Lior's stories because he is so incredibly knowledgable about every single aspect of spices - from their origins and history, to their tastes and flavors, how to combine them, and with which foods they work best. He taught me about how spices can impact your health and how to use them in ways that make your daily cooking routine so much more fun! Plus, those incredible aromas can take you on an olfactory journey to the most amazing places on earth.
Nadine - I'd been a fan of Lior and his first book, The Art of Blending, for quite some time, so when I was asked to illustrate The Spice Companion, I was thrilled. It was the perfect project! I could combine my passion for cooking with my love for painting from nature. After years of working on children's books, this was a welcome relief.
It was easy for me to immerse myself in the beauty of these plants, with their myriad forms, rich colors and alluring flowers. I wanted to convey to the viewer the uniqueness of each plant by accentuating their inherent grace and symmetry. I varied the composition of each illustration so each would stand on its own or be part of the whole, creating a rhythm in the book from beginning to end.
2. What's the most surprising thing you learned in the process?
Nadine - I surprised myself by producing 102 spice illustrations in 5 months. Normally, I paint with acrylics on paper, but I knew the time restraints wouldn't allow that. Although years ago I had switched from painting on paper to digitally illustrating children's books using a stylus and tablet, I hadn't attempted to "paint" digitally. Each day I worked on the book, I was presented with a new set of challenges resulting in a new learning experience. It was trial by fire. Thomas - I was surprised by how beautiful the spices are. The textures on the close-ups we shot are just stunning.
3. Do you have a favorite spice or blend from the book?
We have too many favorites to choose just one!
4. How has your relationship to spices changed?
Thomas - I am definitely using a lot more spices in my cooking now, and I'm more confident experimenting, and making my own blends, too. Nadine - I have a newly found respect for spices, thanks to Lior. Before I read The Art of Blending, my spice drawer held a mundane collection of tins and bottles taken off the shelf at the supermarket. Now that drawer is filled with Lior's spice blends. They have added a wonderful new dimension to my cooking. Each spice blend is infused with Lior's passion.
5. Any projects or news you'd like to share with us?
Nadine - Aside from illustrating children's books (available on Amazon), I make household items from the fabric I design for my shop on Etsy, NadineWestcottFabric. I'm currently working on launching a new Etsy site that will feature my new line of graphics for children's home decor as well as prints from my paintings, including the illustrations from The Spice Companion. I'm on Instagram as nbwestcott and on Pinterest and Facebook as Nadine Westcott.
Thomas - We are working on developing our new company Taste in Motion. Stay tuned for some exciting projects coming in January 2017.
6. Best thing you ever ate?
Thomas - My wife's Turkish Köfte, and Käferbohnen, which are beetle beans with pumpkinseed oil from Styria, topped with smoked salt from La Boîte.
Nadine - My daughter Becky's apple tart.
The Spice Companion is available for pre-order on our website. And please RSVP for our opening reception here at La Boîte if you'll be in NYC on 10/20 to meet both Nadine and Thomas!
Follow Thomas and Nadine for more updates
With more than twenty years in the business,

Thomas

Schauer

is a world-renowned and talented commercial director and food photographer. His passion for capturing moments on film began at an early age. Growing up in his native Austria,

Thomas

cultivated an artistic sensibility inspired by the aesthetics of European culture that surrounded him. After obtaining his master's certificate in photography at the most prestigious photography school in Austria, he opened a studio in Vienna and a second in New York City. His commercial culinary work includes projects with Nespresso, Uncle Ben's, Wegmans, and Papa John's. Chefs Dominique Ansel, Daniel Boulud, David Bouley, and José Andrés have all had

Thomas

work on various cookbook projects, and, just recently,

Thomas

won Best Photography (USA) for Dominique Ansel: The Secret Recipes, by Dominique Ansel, at the prestigious Gourmand Awards (2015).
Nadine Bernard Westcott is an internationally known illustrator and author of more than one hundred children's books, including Silly Milly, Peanut Butter and Jelly, and I Know an Old Lady Who Swallowed a Fly. Her illustrations also appeared in a monthly column in Gourmet magazine for several years. Nadine lives on Nantucket Island in Massachusetts and divides her time among illustrating, painting, and designing her own line of fabrics.