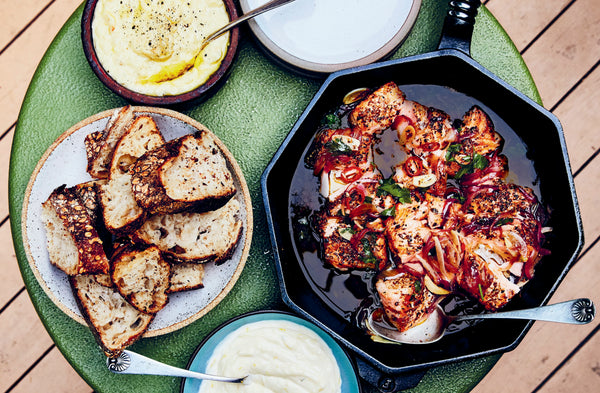 Paul Kahan
We've been working with Paul Kahan for 10 years now and are excited to finally introduce our collaboration spices at retail. In this interview he shares a recipe, thoughts on cooking, and more. 
Thanks for taking the time to chat with us about your blends, would love to hear the story behind each.
The story behind the avec blend starts when I had the chance to get to know Lior working together on a consulting project. We became good friends and we have a lot of mutual interests--food, wine, t-shirts and tasty beer to name a few. Over several years of cooking together, Lior became pretty familiar with a couple of our Chicago restaurants, and we used his spices quite a bit in our kitchens. After a while, he suggested putting together some spice blends for us, and the rest was in his hands!
Do you have a favorite recipe using one of the blends that you can share with us?
Yes here is my recipe for Salmon Escabeche. And stay tuned for others this month using the PK and The Publican blends.
Tell us a bit more of your philosophy behind cooking and eating, what drives you? 
I think the title of my second cookbook, Cooking For Good Times, says it all. High-quality ingredients are always best, and the simpler the preparation, the better. For me it's more about the people you're hanging out with than it is about fussy food. 
Desert island spice?
Cancale N11 Not only is it my favorite spice, but for my 50th birthday, I took a trip to Cancale -- a small, sleepy town on the Western coast of Brittany in France. While I was there, Lior was kind enough to introduce me to Chef Olivier Roellinger, who is a native of Cancale and taught Lior a lot about spices as well. It was a once in a lifetime experience that forever shaped the way I look at food.
What's the last thing you ate that surprised and delighted you?
Dylan Patel, our chef de cuisine at avec in the West Loop created this incredible wood fired flatbread with minced lamb, feta, pickled chili and mint. It kind of tastes like the best gyro I've ever had.
Anything (not strictly food related), that you're passionate about and would like to share with our readers?
The list is too long! Tube hifi, old jazz LPs, gardening, fishing, and a good night's sleep. 
Thank you, and thanks for your time and for sharing with us!
Paul's spices are all available here, and if you're interested in his book it can be purchased below.
For more updates from Paul, you can follow him here:
About Paul Kahan
Chef and partner Paul Kahan has become the nationally recognizable face of Chicago chefs. Passionately seasonal, unconventionally creative and dedicated to the inspiration of classical cuisine, Kahan has received international acclaim for Blackbird, avec, The Publican, Big Star, Publican Quality Meats, Dove's Luncheonette, Publican Quality Bread, Publican Tavern O'Hare. Awarded Outstanding Chef by the James Beard Foundation in 2013 and Best Chef of the Midwest in 2004, Kahan has earned the praise of many who claim him to be one of America's most influential working chefs. In 2018, his cookbook "Cheers to the Publican, Repast and Present: Recipes and Ramblings from an American Beer Hall," won the IACP award in the "chefs and restaurants" category. In 2019, Kahan released his second book, 'Cooking For Good Times," which was named 'One of The Best Cookbooks Of The Year' by the New York Times Book Review. A Chicagoan through and through, Kahan is known for developing relationships with Midwestern farmers—leaving a permanent mark on his culinary outlook.