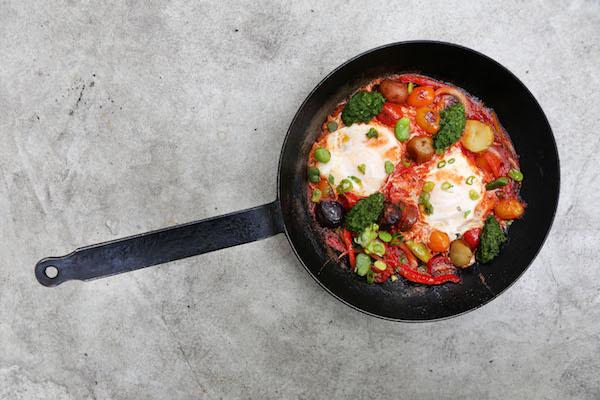 Chef Zachary Engel of New Orleans' Shaya
This month we catch up with Zachary Engel, the chef de cuisine at Shaya, alongside Executive Chef/Partner Alon Shaya (a long-time client of ours)
1. What's your favorite thing about your life right now?
The obvious answer is how much praise Shaya has gotten in the past year. It's still astounding to me that hummus and falafel would lead to so much recognition from New Orleans and from the rest of the country. Also, our staff works so hard to give our guests the best version of the food we cook at Shaya. It's so meaningful that they have taken ownership of the cuisine. They really want to cook Israeli food. But the best part has been how unconditionally supportive my wife has been. She's been a rock through my long days and nights at the restaurant. Life is pretty great these days.
2. What dish that you've created are you most proud of and what's the story behind it?
A few months ago I decided I wanted to make Basturma, which is like a bresaola but spiced with paprika, fenugreek and cumin. I used
Ararat N.35
from La Boîte. I'd never really done charcuterie that much before this and Chef Alon is incredibly talented with the salumi program he's developed at Domenica. The first time he and I really cooked together we made Soppressata di Toscana (head cheese) at Domenica and that was a truly memorable experience for me as a young cook.
This time he showed me how to cure, tie, and ferment the basturma in the style of bresaola.
We don't spend too much time together in the kitchen and it was humbling to learn something from him once again. I was also simultaneously lacto-fermenting green strawberries in our wine cellar. I waited three months for both to be ready. It all came together with some fresh peaches and shishito peppers. The waiting was brutal for me and it was supposed to have lasted us the better part of a month. We sold out in 8 days. We're going to start getting more basturma going again soon since it was such a hit.
3. Why do you think Shaya was so well received in New Orleans?
There's a lot of reasons we have gotten so much praise from the city. A lot of it has to do with Chef Besh and Chef Alon's approach to hospitality. I think there's a changing dining climate in NOLA where people are looking for something different and we were in the right place at the right time. I've always thought that the cuisines of the Middle East, especially Israel, match up really well with how we eat here. Both are very focused on seasonal vegetables, grains, and rice.
People immigrated to Israel from all the corners of the earth and brought their food with them. They made do with the ingredients they had and a new blend of Middle Eastern cuisine was born. When Europeans arrived in Louisiana they did the same thing. I'd say, mostly, there's a lot of love in our food. Shaya is in some ways just a result of Chef Alon's and my passion for Israeli food. Cooking Israeli food in New Orleans has been my endgame since I started cooking. When there's people behind a restaurant with that much drive to share who they are through cooking it can yield a lot of positivity. We're just lucky to have such a great city to cook for.
© Stephen Young
4. Do you have a summer recipe using our spices that you can share with our readers?
We wanted to do a Shishlik because summertime in Israel is all about cooking kebabs and skewered meats over charcoal. We don't have a charcoal grill at Shaya so we had to compose a dish that had all those flavors in it. We marinade Wagyu Hanger steak in a traditional shishlik marinade. We grate local heirloom tomatoes and char up some red onions. Then take some wax beans and sear them in a hot pan and add a butter mixed with
Shabazi N.38
until it browns up and gets that nutty aroma. The dried green chilis in the shabazi perfume and add the right amount of heat to the steak.
Serves 4-6
4 8 oz hanger steaks
1 yellow onion, cut into large chunks
3 garlic cloves
1 bunch of parsley, chopped with stems
1 tablespoon date molasses
2 tablespoons lemon juice
1 cup canola oil
1 heirloom tomato
1/4 teaspoon of sea salt
1/4 cup olive oil
1 red onion
1 stick unsalted butter, room temperature
1 1/2 teaspoons Shabazi N.38
zest of 1 lemon
1/2 lb. long beans (wax or green), stems trimmed and washed
juice of 1 lemon
1/8 cup parsley leaves, chopped fine
1/8 cup cilantro leaves, chopped fine
1. In a blender puree the onion, garlic, parsley bunch, date molasses, lemon juice, and canola oil. Clean the steaks of any extra fat or tendon and toss them in a bowl with the marinade. Let sit in the refrigerator overnight or for at least 4 hours.
2. Bring a grill up to as hot a temperature as possible.
3. Cut the tomato in half from stem to bottom. Place a box cheese grater in a mixing bowl and hold the tomato half with the skin side in your palm. Using the largest size on the box grater push the fruit through. Try to avoid getting any skin into the grated tomato.
4. In a small mixing bowl, mix the shabazi and lemon zest into the butter. Mix with a spoon. Set aside and leave at room temperature.
5. Cut the red onion from stem to root into quarters. Peel back the skin. Place on the grill for about 5 minutes until both sides are charred. Remove from the grill and cut off the stem. The inside smaller pieces should peel right out. Check for doneness with each layer you remove. If the onions are not cooked all the way through cut them in half and grill the quarters on the uncharred side. Make sure to pull apart all the slices right away.
6. Cook the hanger steak 3-4 mins per side on the grill, depending on the thickness of the cut. Let them rest on a paper towel to absorb any excess juices.
7. Get a large skillet very hot and add the beans. In about one minute the beans should have a good char on them on them. Remove from the heat and add the shabazi butter. When it starts to turn brown add the juice of the lemon and the chopped parsley and cilantro.
8. Add the grated tomato to the middle of a serving bowl. Sprinkle the sea salt and olive oil on top. Slice the steak into 1" thick pieces and place on top of the tomato. Pour your brown butter-bean mixture on top of the steak and add the charred onion petals all around.
5. What is your favorite herb/spice and why?
Hawayej. I spent a couple weeks in Israel this past April. I stayed mostly in Rosh Ha'Ayin, a suburb of Tel Aviv. I was a guest in the home of a wonderful Yemenite family. We cooked together and I learned how to make all the yemenite breads and soups and we went shopping for all of the spices and coffees. Hawayej is Yemenite in origin and we use it a lot at Shaya but it's become this one thing I encounter everyday that helps me to remember my "family" back in Rosh Ha'Ayin.
© Marianna Massey
6. What would you like to see people eating more of?
Seasonal produce. My wife and I lived in Sonoma County and participated in a local CSA. We mostly eat vegetarian at home. It's cheaper, rarely spoils in the fridge and it pushes us to be more creative with how we cook. It's always fun to be cooking with the first heirloom tomato or the first fall pumpkin and add a little spice or acid to it to really bring out the purity of the flavor. Our grocery stores in Louisiana typically carry items that come from California or Mexico, and more often than not, they're just bland to me. A Santa Rosa plum from Sonoma County is unreal. But when it travels 2,500 miles to get to you it dulls a bit. Buying local and seasonally can seem troublesome but the benefits return to you immediately. A melon in the height of summer is a taste to behold. It enriches your soul.
7. What makes food authentic to you?
Authenticity in food comes from whether the chef or cook has a voice and tells their guests a story about who they are and what their passions may be. We always try and tell our story at Shaya; while using local ingredients we are showcasing dishes that reflect on the blend of cultures in present-day Israel.
During my last trip to Israel, I ate at a place called Mike and Sharon's Bistro in Kibbutz Gal On (a farming community south of Tel Aviv). Mike and Sharon are South African expats. They cook classic South African fare but it's an all-meat kosher restaurant, no dairy. They're pretty low-key people but a little wacky and fun and the restaurant feeds the entire Kibbutz. The food wasn't anything fancy or meticulously plated. Mike's food just says "I am from South Africa. I live here now and I cook this food and it's good and simple and I want you to have fun." And it was all those things. I've never been to South Africa or eaten much of the cuisine but that's exactly how that meal felt.
Follow Shaya Restaurant for more updates from Zachary
Zachary grew up in Orlando, FL. Along with his twin sister and younger brother, he grew up in a Jewish home as the son of a rabbi. A life-changing trip to Israel at the age of eight was the precursor to a career focusing on Israeli cuisine.
After graduating from Tulane University's A.B. Freeman School of Business in 2010, he moved to Philadelphia to cook at Michael Solomonov's Zahav. During Zachary's time there, Solomonov was awarded a James Beard Award for Best Chef Mid-Atlantic. Almost immediately thereafter, Zachary bought a flight to Tel Aviv to work at Meir Adoni's Catit Restaurant in the Neve Tzedek neighborhood. Upon returning to Philadelphia, Zachary helmed the first two locations of Solomonov's Federal Donuts collaborating on the menu with Solomonov and his partner, Steven Cook.
In 2012, Zachary moved to Healdsburg, CA in northern Sonoma to work at the Michelin-starred Madrona Manor. Under Jesse Mallgren, he cooked with seasonal ingredients pulled from the estate's garden just outside the kitchen's doors. The attention to detail and seasonality of Madrona Manor are now centerpieces of Zachary's cooking approach.
Zach resides in Uptown New Orleans with his wife.