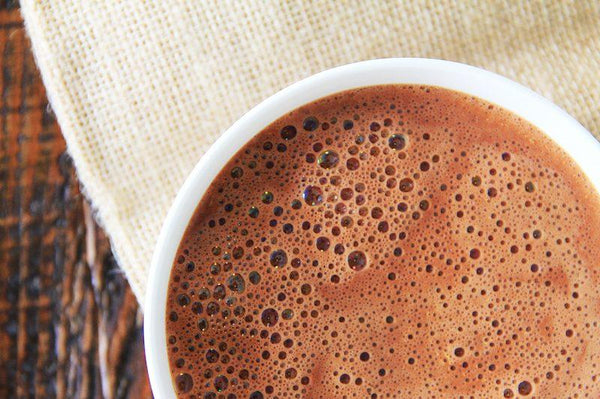 Michael Laiskonis - Recolte Desert Bar
It's been 3(!) years since we last caught up with our friend Michael Laiskonis. His newest venture is a dessert bar on the Upper West Side at Récolte.
© Hon Tung
1. Congrats on opening the dessert bar at Récolte, can you let us know a little bit more about the concept?
Thank you! I've always loved working in the medium of fine dining level plated desserts, and although some of the consulting projects I've been involved after leaving Le Bernardin touch that world, I liked the idea of getting back into the scene and doing it under my own name. We're essentially turning the retail space over in the evening after the bakery closes, creating a different atmosphere for a seated three-course dessert experience. We wanted to offer a high-level product in the plate, but in a relaxed, casual environment. Most of all, it gives me a fun opportunity to both play with new ideas and to bring back some personal favorites from my past repertoire.
2. Sounds great. What are a few unexpected flavor combinations you've discovered recently?
Lately, it's been simple combinations, ideas that allow me to explore subtle nuance or shifting contexts. A current favorite is the intersection of hazelnut, lemon, and coconut – not at all earth-shattering, but I'm finding there are a lot of ways to express those flavors in terms of intensity and proportion. I also increasingly like the notion that 'what grows together, goes together'. As I've spent more time working with chocolate and getting to know the subtleties of single origins, I find that's a really interesting palette of flavors to paint with; one of the early dishes at the Dessert Bar presented a cacao juice sorbet with bright lime and 'funky' palm sugar, offering a 'sense of place' to the idea of chocolate without any 'finished' chocolate in the dessert! Another idea I've revisited turned into a dish based on flavors of India – coconut, rose, mango, pistachio… I never get tired of that combination.
© Hon Tung
3. And how about a recipe for home cooks who'd like to execute something beautiful at home?
My work in chocolate has also extended into an interest in more of an historical perspective, and most people don't realize that for most of history – going back a few thousand years – cacao has primarily been a beverage. The 'modern' chocolate bar we eat out of hand is really a fairly recent idea in the grand scope of things. I'm really interested in the early recipes for chocolate drinks that combined flavors the Mesoamerican cultures were using with European adaptations as chocolate gained popularity in the 17th century. The recipe I've shared with you pairs 'traditional' elements like vanilla, annatto, and chile with anise, black pepper, and orange flower. I like showing people that chocolate can be so much more beyond a packet of instant cocoa. 
Spiced Hot Chocolate
500g (2 ¼ cups) whole milk
2g (1 teaspoon) annatto seed
25g (1 ounce) almonds (blanched, roasted, ground)
1pc vanilla bean (split and scraped)
1g (½ teaspoon) black pepper (coarsely ground)
1g (½ teaspoon) anise seed
1pc dried arbol chile
80g (3 ounces) dark chocolate (high quality, high cocoa solid percentage)
2g (¼ teaspoon) salt
A few drops orange flower water
50g palm or brown sugar (adjusted to taste)
1. Heat the milk and annatto seed, almond, vanilla, black pepper, anise, and chile; bring to a boil, remove from heat, and infuse ten to fifteen minutes. Strain through a fine mesh sieve.
2. Resume a gentle simmer and add the chocolate and salt; add orange flower water and the sugar to taste.
3. Serve warm and well emulsified with an immersion blender.
© Michael Laiskonis
4. Thank you! Are there any preconceived notions about desserts that you aim to challenge/change?
Since I began cooking some twenty-five years ago, there has been so much innovation and inventiveness. I generally think that across the board, the bar has been raised significantly, in terms of the level of sophistication and broad flavor profiles contemporary desserts offer. I love the direction things have gone in the sense that 'dessert' is being seen more as 'food' – there is an increasing seriousness and legitimacy that removes high-level pastry away from the fetishized, guilty pleasure – the afterthought of something sweet at the end of a meal. I'm at a stage of personal evolution where I am, one might say, looking 'inward'. That sounds pretentious, but it really represents an ongoing quest toward refinement and thoughtfulness that I hope challenges those conventional ideas of 'dessert'.
© Hon Tung
5. What's something not everyone knows about you that you'd love for people to know?
Well before the opening menu at Récolte Dessert Bar was finalized, I had given almost as much thought to the music we play in the room – it's a bit of an eclectic playlist that represents a lot of what I like. For me it's almost like hanging out in my home kitchen, and there are times I enjoy working in the open Dessert Bar kitchen so much that I hate when we close at the end of the night and shut down the sound system!
6. Who would you most like to cook dinner for, and what would you serve?
One of the few non-food related hobbies I've enjoyed in recent years has been genealogical research and tracing family histories back, in some cases, a few hundred years. It's an interesting process that makes one reflect on how the broad strokes of history actually affected real people that we can – at the very least – attach a name to. I think it would be really interesting to gather a multi-generational group of ancestors together for a meal, but perhaps a potluck-style affair with dishes that represented the place and time they lived. I imagine I'd be called upon to do dessert (of course)… something simple, yet sophisticated, put together from a global palette of ingredients.
© Hon Tung
7. And what do you like most about your job?
Since the first day I ever stepped foot in a kitchen right up to today – the thing I value most is the constant learning process. I often say that with cooking, the more one learns, the more one realizes what they don't know. It's the promise of that ongoing education that gets me going every day.
Love it!
Recolte Dessert Bar is open Wed-Sun 730pm-11pm (1130pm on Friday and Saturday). More information here.
Follow Michael for more updates
Michael Laiskonis was named Creative Director of New York City's Institute of Culinary Education in 2012. Previously Executive Pastry Chef Le Bernardin for eight years, his pastry philosophy manifests itself in a style of desserts that balance art and science, and contemporary ideas with classic fundamentals. Awarded Outstanding Pastry Chef in 2007 by the James Beard Foundation, his work helped the restaurant maintain three stars from the esteemed Michelin Guide and four stars from the New York Times. During his five-year tenure as Pastry Chef at Tribute in Detroit, Pastry Art and Design twice named him one of the "10 Best Pastry Chefs in America". In 2014, the International Association of Culinary Professionals tapped Laiskonis as its 'Culinary Professional of the Year'. January 2019 saw the launch of Récolte Dessert Bar on New York's Upper West Side, an exciting partnership that will bring his plated desserts back to the city's dessert scene.
Laiskonis has been featured in numerous web, print, radio, and television, appearances internationally. He was named Bon Appétit's 2004 Pastry Chef of the Year and Starchefs.com declared him a Rising Star in 2006. He was a key member in helping develop the culinary side of IBM's latest iteration of Watson technology. Under the banner of Laiskonis Consulting, LLC he has performed a broad range of advisory roles and development projects with major food and hospitality companies, small food start-ups, and independent restaurants alike.
Respected within the industry, Laiskonis currently serves as a brand ambassador for leading companies in the global pastry field, including Boiron, Bravo, and PreGel. In 2008, he became a featured contributor to Gourmet and participated in the launch of the Salon.com food page. His writing has also appeared on The Huffington Post and The Atlantic, as well as several cookbook anthologies, including The Kitchen as a Laboratory, published in 2012 by Columbia University Press. More recently, Michael's kitchen sessions were documented with his column for Lucky Peach.
Ever eager to expand his own knowledge, Laiskonis is excited to find himself in a position to give something back to the culinary community after over twenty years in the kitchen. In 2015, he launched the ICE Chocolate and Confections Lab, with full bean-to-bar chocolate-making capability. Beyond developing and teaching an ever-evolving battery of technical skill, he hopes to inspire the next generation of young cooks by sharing his perspective of the creative process as well as the underlying drive and determination necessary to succeed as a chef.