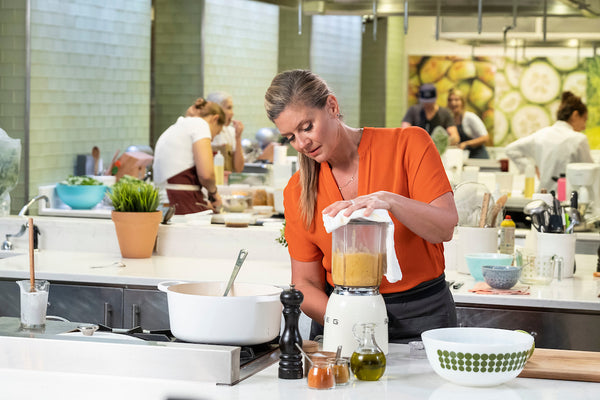 Amanda Freitag
Our friend Amanda Freitag has been cooking up a storm over the past year on her online series Easy AF. We've teamed-up with her to produce the spice blends she dreamed of, and are excited to now offer them to the general public.
Thanks for taking the time to chat with us; we'd love to know a bit more about the blends and what inspired them?
The blends were inspired by flavors that I love to cook with and blends that I WISH I had. I would always take other spice blends and mix them together to create exactly what I wanted and these represent those flavor combinations!
Nice! What's your favorite thing to make with Chica Adobo?
I love seasoning fish with Chica Adobo and making fish tacos! This spice is so versatile and packs a punch of flavor to add zest to any dish. I also like using it on roasted vegetables, guacamole, bean salads and it goes great sprinkled into scrambled eggs!
Sounds great and thanks for sharing! What's something you've learned over the past year that's been particularly surprising and valuable?
I have done a lot of cooking classes & events virtually over the last year of lockdown. What was wonderful to see, is that even cooking together through a computer screen can truly connect people. We were able to show each other what we made and feel a sense of communing even though we were apart and that was so necessary during this difficult time.
What's your desert island spice?
OH man, this is almost impossible to answer! I wish I could say salt but that is technically a mineral, so it would have to be pepper.  And to really fine tune that answer I would say cayenne because I love spicy foods and I don't think I could live without that fiery flavor.
What's something not a lot of people know about that you wish more people knew?
I'M FUN!!  I think most people may know me from the Food Network show "Chopped" as a judge or on other shows as a competitor and only see the tough, critical side of me. I am always, smiling, laughing and joking around and I'm very light hearted. I love music, especially seeing live music and I love to sing and dance along! 
:) thank you so much for sharing with us and we're looking forward to the rest of your recipes over the next month! 
Amanda's spices are all available here. And her book can be purchased here.
For more updates from Amanda, you can follow her here:
About Amanda Freitag
Born and raised in New Jersey, chef, television personality, and author Amanda Freitag has become a culinary maven. Following her graduation from the Culinary Institute of America, Amanda worked in a diverse mix of restaurants in New York City, including Jean-George Vongerichten's Vong, Verbena, Il Buco, Cesca, and The Harrison, running the culinary gamut of Mediterranean, Italian and Classic American. She sharpened her skills through world travel, including working under Chef Alain Passard in Paris, and continued expanding her culinary expertise into a variety of international cuisines. Outside of the restaurant business, Amanda has become a household name for her work both on and off the television screen. Her mission to make cooking more approachable inspired her cookbook "The Chef Next Door," as well as other ongoing projects. Most recently, she launched a digital series call "Easy AF," where she shows audiences that delicious food can be fun, easy, and quick to make right in your home kitchen.