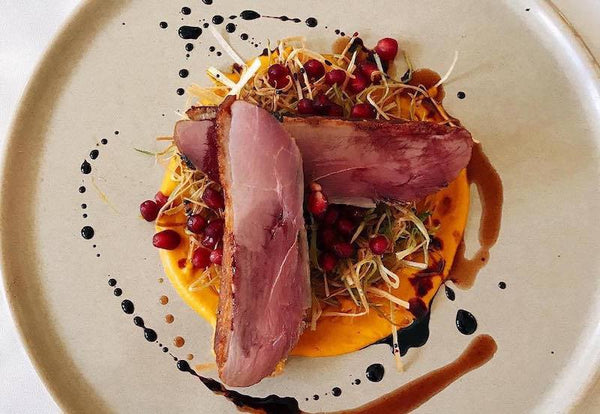 Stuart Cameron of Byblos: Miami Spice Dinner August 31st
Stuart Cameron is the executive chef for Byblos Restaurants, with locations in Toronto, Miami, and Dubai. This month we interview him in advance of our upcoming Spice Dinner at Byblos Miami on August 31st. Get your tickets here!

This is second spice dinner we've done with you and with Byblos. Toronto was a blast, and we're very much looking forward to Miami on the 22nd. Thanks for taking the time to sit down with us this month and answer a few questions! What would you like participants in the upcoming spice dinner to walk away having experienced?
Collab dinners are always a blast and Miami really gets behind them. This one's going to be huge!! Lior has a great presence in Miami and chefs really love his products… so it's a great opportunity for the Miami foodies to come down and meet him… It's all about the food!!
Do you have a favorite spice or blend and what's your favorite way to use it? Any unusual/unexpected combinations you've found that work over your years as a chef?
Last dinner in Toronto we put together a menu using all La Boîte spices…… the Hawayej Spiced Wagyu with Hummus was killer.
What's a dish on the regular menu at Byblos that you're particularly proud of and why?
We do amazing lamb ribs at Byblos, cooked sous vide with Dukkah, and served with Red Pepper Schug and Date Molasses… its sweet, savoury, salty, and spicy (all the best things in life) :)
How about a recipe that's easy for a home cook to execute?
We love cooking rice at Byblos so here's a favourite that we make everyday ….. Jewelled Rice
What would you like to see people eating more of?
Peruvian food…. as I have a new concept cooking, which is opening in the fall!
Last meal?
Hopefully never… do you know something I don't?! :)
Follow Stuart & Byblos for more updates
Website: Byblos Miami
Facebook: ByblosMiami
Twitter: @byblosmiami
Instagram: @chef_stucameron
Born in Australia and raised in Melbourne City, Cameron was told by schoolteachers that he would never be anything more than a trolley collector. Despite their lack of confidence, he was offered a full-time internship at a local restaurant at the age of 14 and went on to apprentice at the Box Hill Institute of Culinary Arts in Melbourne.
Currently executive chef for the authentic Spanish restaurant Patria, and the Middle Eastern/ Mediterranean-inspired restaurant Byblos, with locations in Toronto, Miami and Dubai, as well as STORYS Event Catering. Cameron's ability to execute multiple genres of global cuisine is evident in the success of his restaurants, which constantly receive top accolades by Canadian food media. Demonstrating his innate understanding of the potential for international cuisine, Cameron was pivotal in starting the "Middleterranean" cuisine moment in Toronto.