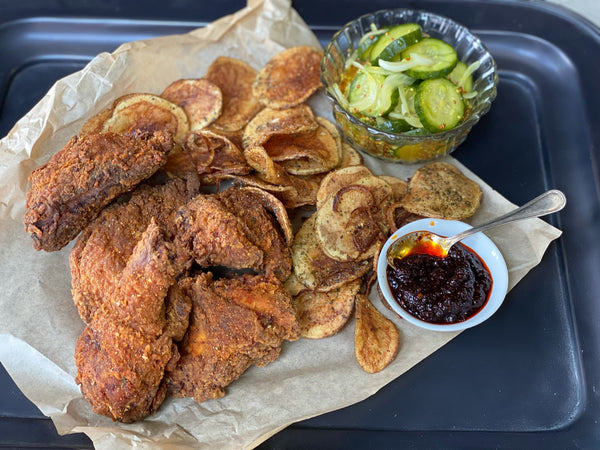 Fried Chicken Dinner
Putting together an entire fried chicken dinner doesn't need to be complicated, which is why we have created a more convenient way to do it! The pickles and harissa honey sauce can be made days or even weeks ahead. Both stay good in the fridge for up to a month and they're super versatile, so you can use them in other dishes.
Frying the chicken doesn't need to be super messy. Simple marinate it overnight or up to three days. When it's time to fry, dredge the chicken and cook! While you're cleaning up you can fry up the potatoes in the leftover oil from the chicken. 
Our signature fried chicken recipe, complete with its own fried chicken spice blend. 
The perfect side dish. Tossed in vinegary, herby Bernise spice blend. 
Not only is this addictive condiment the perfect balancing act in this dish, but also, it's a great thing to keep in your fridge. You can truly put it on anything. Made with Izak.  
The classic made with OMG.