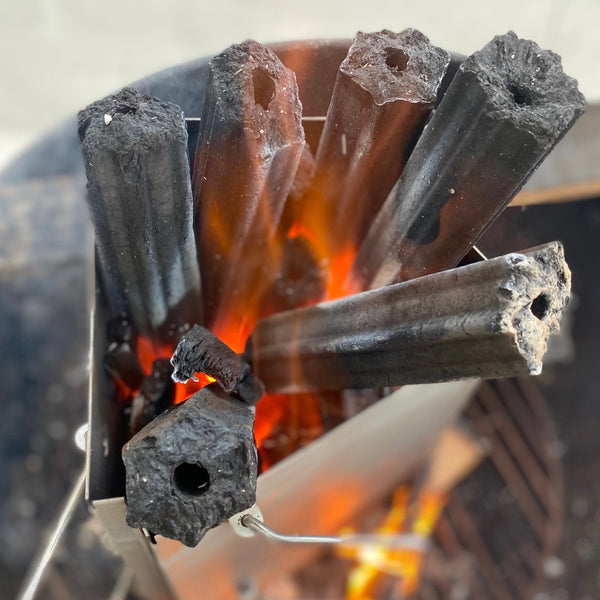 Sustainable Products We Love
We try to be as mindful of the planet as possible in our everyday lives. By switching over to a few key products, we are confident that we are creating less waste and choosing the better option. Here are some of our top products and tips for being a little more sustainable every day!
1. Prime6 Charcoal
This is our go-to charcoal for all of our grilling needs. It's made with repurposed sawdust with no additives or chemicals and is reusable - meaning you can light it, 'turn it off', and reuse it later. It also burns far longer than other charcoals, so you need less of it. Get 10% off their 9lb charcoal here!
2. Oxo Silicon & Metal Straws
Oxo is a brand that makes beautiful, sustainable products that are meant to be used for a very long time. Their silicon and metal straws are one of our favorite products. The best part is that the silicon part pops off so you have a great little straw for drinking cocktails. 
Find them here.
3. Bamboo Products
Bamboo is one of the most sustainable crops because it's self-regenerative, grows without fertilizer, and is very versatile. It's an amazing material because it regrows within 3-4 months, unlike trees, which can take up to 30 years. We try to reach for bamboo product alternatives whenever we can; luckily, they are becoming more widely available every day.
We also love using it in dishes like stir fry and Asian-inspired soups - it's a delicious ingredient!
4. Reusable Materials
Reusing a product or package is one of the best things you can do for the planet because every time you reuse something it's one less of something being thrown in a landfill. We always encourage people to reuse our spice jars rather than throwing them out. You can use them to house your own spice blend creation or even use them for organization purposes. 
5. Aarke Carbonator
This carbonator has one of the sleekest designs on the market. Having one at home helps to reduce waste created from buying seltzer in cans. Plus, their CO2 cylinders are made with renewable resources. Read more about them here!
6. Nespresso Pods
Not only is Nespresso delicious, but they have a really awesome pod collection program so that your capsules never go un-recycled. It's also a better choice than other coffee pods on the market because they are made with aluminum rather than plastic! You can find more information on their recycling program here.

7. Hay Straws
Another great option for sustainable straws. Hay! Straws are made from the stem of the wheat plant which can easily be regrown and are very abundant. These are a better choice than paper straws as the wheat plants can fully regrow in a year. Along with that, these straws require minimal processing and look great - we highly recommend them!
Buy them here.