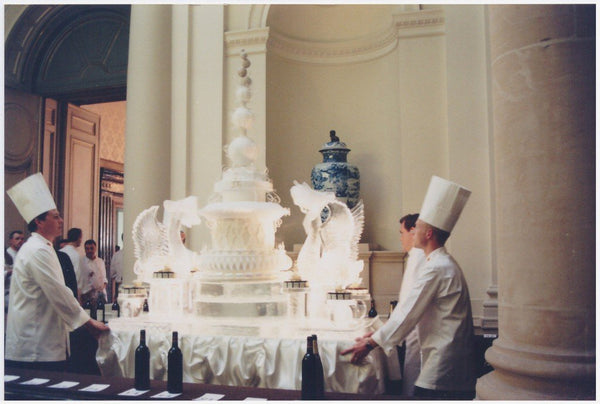 Christopher Curtin & Eclat Chocolate
The World of Exquisite Chocolate
Master Pastry Chef and Award-Winning Chocolatier (Konditormeister), Proprietor of Eclat Chocolate, Christopher Curtin.
From Madison, Wisconsin to the international world of confections, Christopher Curtin has achieved global fame for his many chocolate preparations. Ethically sourced single origin chocolate bars, smooth caramels, luxurious (and award-winning) truffles, and spiced chocolates are all part of what makes Eclat truly one of a kind.
Christopher Curtain, Belgium
1) What are some exciting products being featured at Eclat for the fall and upcoming holiday season?
We have been working on a series of bars where the flavor profile changes as you enjoy the chocolate. It was inspired by nature and all symbiotic relationships that flourish in nature. I never heard flavors described as symbiotic in a culinary sense, in that they support and even improve the other flavor. It has become a way for us to describe what is going on sometimes in certain flavor profiles. I thought to have a bar that has classic flavors combinations that change and evolve as you experience the bar would really be amazing.
Eclat's exotic Peruvian Nacaional Truffles
2) From exotic truffles to single origin bars, tell us more about the creative process for creating your chocolates
It's always different. Sometimes the ingredients dictate how we are going to work with the chocolate, or it could also be a collaboration that can influence how we approach the balance and design of the chocolate. Inspiration can come from almost anywhere. Just walking the farm markets to seeing what the savory side of a kitchen is doing is always exciting. Traveling is still the most important, it seems to shake up your old ideas and reform them. We continue to work a lot on how to improve the experience by simply changing the texture of the caramel or creating thin filled disks to increase the surface area. All these small details can really change the experience in positive a way.
3) So many of us love chocolate and sweets, but to be an award-winning chocolatier is something on a whole different level! How did you first realize this was your passion?
While I was living in Europe I had the opportunity to work in a few artisan factories. This really opened up my eyes to how intricate chocolate could be. I enjoy working with a medium that is extremely technical yet flexible in all the different ways you can work with it. Starting with the bean and creating chocolate though the whole process to a finished Praline or Bon Bon or bar builds a certain respect and understanding to chocolate.
Eclat & La Boite Spiced Chocolate Chips
4) How do you use spices to bring new flavors to your confections?
We like to use spices and flavors that enhance the already apparent flavor of the chocolate. Having a source of spices of this caliber so close by in NY has really develop our pallet in what is possible. Spices of course have always gone historically hand in hand with chocolate. The spices should support the chocolate or even elevate the chocolate but never over power it.
The Cocoa Tasting Set
5) For home cooks who are interested in making their own chocolate confections, what can you recommend to get them started?
It always starts with the quality of the ingredients and then the technique. Making home made truffles can be a nice weekend project.
Follow Christopher for more chocalate-filled updates