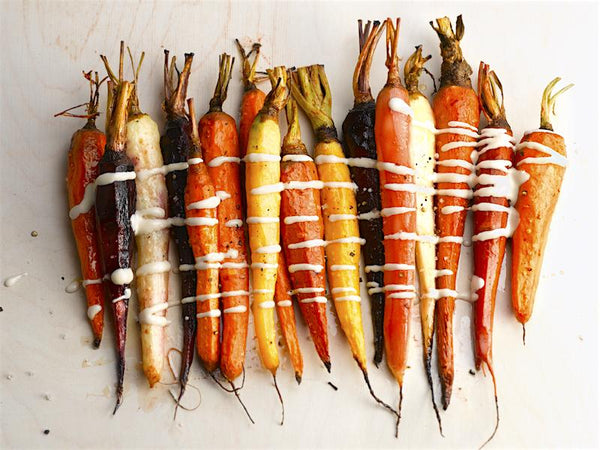 Seed + Mill: Artisan Tahini, Halvah, and Sesame
Lisa Mendelson, Monica Molenaar, and Rachel Simons are the team behind Seed + Mill, offering artisan sesame products at their new stand in Chelsea Market
1. What is Seed and Mill all about (knowing that sesame is just the beginning). Tell us more about your products and philosophy. What sets you guys apart?
Seed + Mill is all about sesame seeds - the core ingredient for our tahini and artisanal halva! Our first store opened last week in a new section of Chelsea Market and we have barely taken a breath since!
We are selling 18 flavors of halva, all hand stirred and produced in small batches, as well as three different flavors of tahini, tahini ice-cream made with a goat milk base and, of course, our range of sesame spices that we created in collaboration with La Boîte!
We use premium Ethiopian seeds to make our products and roast the seeds at very precise temperatures, locking in the incredible nutritional value, as well as the flavor. We then follow an ancient tradition of milling the seeds to make the tahini (also known as a sesame butter).
Our business was founded by Lisa Mendelson, Monica Molenaar and Rachel Simons. Lisa, an Israeli, arrived in New York a few years ago and was shocked by the poor quality of local halva and tahini. She found herself packing up suitcases of tahini and halva on each trip back home to Israel and bringing it back to New York until she could replenish her panty on the next trip. After sharing the products with her friends, Monica and Rachel, Seed + Mill was born!
One of the things that really sets our products apart is the quality of the ingredients we use, as well as our unique flavor combinations. The three of us are all 'foodies' and we literally sat around a table one evening and dreamt up all the flavor combinations for our halva. We wanted our customers to "re-imagine" halva - which for many is an old nostalgic treat - in a more contemporary and modern way. Some of our flavors include lemon & white chocolate, sea salt dark chocolate, nougat, rose oil, cardamom, figs – as well as the classics like marble, vanilla and pistachio.
© Erez Ben Shahar
2. How did you come up with the idea to start producing products like tahini from scratch? What was the most challenging part of starting a new venture?
In trying to find good tahini locally, we found it was almost impossible to find fresh produce. Most of the tahini on the market was oily and hard to stir. Part of the reason for this was that it was sitting on the grocery store shelves for too long. You can't believe the difference in taste between tahini that has been freshly milled, using premium Ethiopian seeds!
There have been countless challenges in setting up a new venture. Almost every day, we have been faced with some sort of crisis that we needed to resolve and keep moving forward. There were days when we literally laughed until we cried and cried until we laughed! We have learned that it takes an ocean of energy, resilience, friendships and good humor to set up a small business!
3. Most people still associate tahini with hummus and summertime (or don't really know what to do with it) here in the US, do you have any favorite recipes that showcase your products?
This is one of the things that excites us the most! There is so much more to tahini than simply using it to make hummus. We wanted to give tahini its own platform as a versatile and healthy cooking ingredient and not just an ingredient to make hummus. There are so many ways to use tahini – for both sweet and savory dishes! We have had a lot of fun experimenting with tahini in our kitchens and came across one of the simplest recipes one could imagine for chocolate tahini truffles. Perfect for a vegan, gluten free, dairy free, (almost) guilt free dessert!
© Erez Ben Shahar
Tahini Chocolate Truffles
Makes approx. 15 truffles 
Ingredients: 
1 cup best quality 70% dark chocolate
1 cup Seed + Mill Pure Tahini
Cocoa powder, for dusting
Method:
Melt chocolate in a bowl, add tahini and stir to combine.   Line a loaf tin with plastic wrap and pour in the chocolate mix. Place tin in freezer for an hour. Remove chocolate from plastic wrap and slice into squares, rectangles or roll into any sort of abstract shape you like! Dust with best quality cocoa powder. Then try sprinkling Seed + Mill's Sesame + Sweet spice-blend over the cocoa powder for some extra crunch!
4. We at La Boîte have been thrilled to collaborate with you, what has been the most fun part of the process for you?
Everyone in New York City seems to know and love La Boîte and Lior! We knew we were in safe hands collaborating with such a revered spice master! It is also great to work with people who are familiar with our product and its history!
5. Do you have any new projects on the horizon?
Yes, lots! There simply aren't enough hours in the day! One of the things we really want to do is start collaborating more with local New York chefs to showcase the breadth and versatility of cooking with tahini and halva.  We'd love to see more dishes like spring veggies sauced simply with our tahini. A chef stopped by the store the other day to talk to us about adding a 'halva tasting plate' to his dessert menu, which we think is a great alternative to the cheese board for vegans with a sweet tooth!
© Erez Ben Shahar
6. Sesame is a seed with a long history of cultivation, what's something that the average eater doesn't know about it's production and use?
Absolutely! Sesame seeds are one of the oldest oilseed crops known, domesticated over 3000 years ago. There are even Egyptian cave drawings depicting the seeds being used as a condiment for bread.
One of our favorite anecdotes is that Suleiman the Magnificent was rumored to have been such a halva lover that he built a special kitchen next door to his palace called The House of Halva - devoted entirely to the production of the confection! Can you imagine? We now have our own 'Halva House' at Chelsea Market!
The other surprising thing we learned about working with sesame seeds is how jam packed they are with nutrition and health benefits. Did you know that there is more iron in a cup of sesame seeds than the same cup of cooked broccoli? Seven times the calcium than cream cheese, and 3 times the protein than a cup of tofu!
Follow Seed + Mill for more updates
Instagram: @Seedandmill
Seed + Mill precisely roasts premium Ethiopian sesame seeds, milling them on site to produce fresh tahini, halva, and a refreshing goats milk tahini ice cream. They have partnered with La Boîte to produce three co-branded sesame blends, Sesame & Spice, Sesame & Sweet, Sesame & Salt. Visit them at Chelsea Market, seven days a week, 10am-7pm, and experience them breathing new life into an ancient seed.