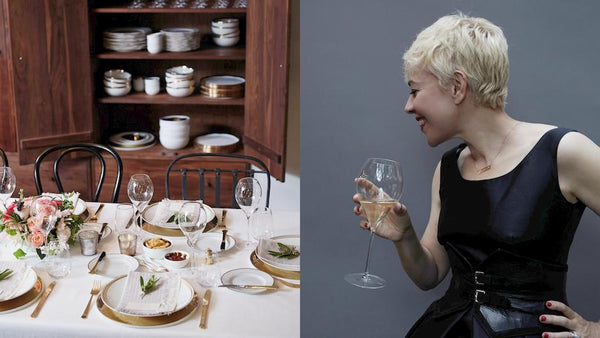 A Champagne House Party with Catherine Martin and Baz Luhrmann
Food & Wine: A Champagne House Party with Catherine Martin and Baz Luhrmann
Catherine Martin and Baz Luhrmann, famed for their over-the-top filmmaking, 
host an intimate champagne dinner at home.
Some people make lists of the luminaries they would most want to sit next to at a dinner party. I think bigger than that: Who would I want to host that dream dinner? Right at the top of my list is Catherine Martin. I've been a big fan of the Oscar-winning costumer, set designer and producer since I saw the wacky '90s love story Strictly Ballroom,directed by her husband, Baz Luhrmann. Martin masterminded the flamboyant, flouncy sequined dresses that animate the movie. Since then, the films she's done with Luhrmann have only gotten more spectacular: Romeo + Juliet, Moulin Rouge! and The Great Gatsby, in which she made 1920s Long Island look like the biggest, best-dressed party in the world.
Because I'm lucky, I got myself invited to one of Martin's dinners, at her town house in Manhattan. "I adore entertaining at home. It's your own lovely space. And if something isn't right, you can fix it," Martin told me, setting a too-short flower arrangement on an overturned ice bucket. Earlier that day she'd discovered her dog had chewed the legs of her Thonet chairs. "I just painted them to cover the damage," she confided. "I'm a set designer. There's a lot of smoke and mirrors when I entertain."
Another reason I want to be at one of Martin's parties: She's an avid Champagne fan. She's particularly enamored of Ruinart, the world's oldest Champagne house (founded in 1729). "They make a Brut Champagne, very low in sugar. I think that's why I prefer it," she said. Martin also appreciates how well Champagne pairs with food: "It's incredible; it matches everything." To prove that point, she tapped chef Lior Lev Sercarz to cook for her party. Sercarz owns the amazing New York spice-blend company La Boîte. He's created custom blends for Le Bernardin chef Eric Ripert, and even for famed bartenders like Jim Meehan, for whom he crafted a series of Bloody Mary spice mixes. Sercarz is from the Middle East, and his menu highlighted the region's flavors, including his short rib tagine braised with pomegranate juice.
Martin was thrilled with the spices and dried fruits Sercarz lined up in her kitchen. "Baz is going to love this," she said. "He always wants authenticity. That pink suit Leo wears in Gatsby—it's exactly what it's supposed to be, and that's Baz."Yet one more reason to have dinner with Martin: She has fun friends. The night I joined, guests included J. Crew creative director Jenna Lyons and fashion designer Thom Browne. "CM and Baz are like dance partners," Lyons told me. "They keep the dinner table entranced with story after story. And the stories are all true."On cue, Luhrmann came down the stairs. "Good evening, CM," he said, then turned to me: "I'm Baz. Shall we eat?" I followed him and Martin to my dream dinner.