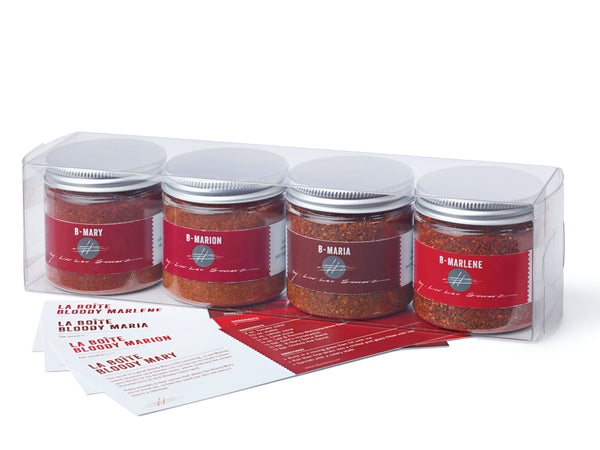 Mens Journal: How to Make a Better Bloody Mary
How to Make a Better Bloody Mary
"I said, 'Jim, I'm going to be very honest with you: I don't like Bloody Marys," recalls Lior Lev Sercarz, author of The Art of Blending, of an early conversation with his friend Jim Meehan, the star mixologist."And then he was like, 'You know what? I actually also don't like Bloody Marys.'" The men decided to collaborate on a spice – Sercarz owns La Boîte, a popular spice shop in New York City – that would make the brunch staple more welcome on their palates.
Meehan, who owns the trailblazing cocktail den Please Don't Tell in New York City, looked to Sercarz to develop a line of spice blends that would create more sophisticated flavor varieties and engineer a more elegant pour. "Usually it's like drinking a pasta sauce, you know?" says Sercarz. "It's very thick; it's very chunky. There's tons of stuff left on the bottom of your glass. And usually, when this thing comes to your table, it looks like a salad bar. There are so many garnishes in it, so is it a drink, or is it a salad?"
Sercarz improved the crude and clumsy Bloody Mary by grinding his blends so that they would dissolve into the liquid, resulting in a clearer cocktail when strained over ice. Not content with having changed the Bloody Mary's texture, he designed three more blends of mostly secret ingredients (as is the tradition of his products) to pair with four different spirits: the Bloody Marlene with gin, Bloddy Marion with aquavit, and the Bloody Maria with tequila.
Armed with these blends, anyone can shake up complex cocktails in a flash while relying on the easiest-to-find Bloody Mary ingredients. "So it's your average tomato juice; it's the Lea & Perrin's Worcestershire sauce; it's your favorite hot sauce," says Sercarz. "It's something that you want to even do a day or two ahead, because the spices really have time to infuse."
The La Boite Bloody Mary
Ingredients
4 oz Tomato Juice
1 ½ oz Vodka
¼ oz Lemon Juice
¼ oz Lime Juice
½ tsp Gold's Horseradish
½ tsp B-Mary's Spice Blend
¼ tsp Cholula Hot Sauce
Preparation 
Stir it in a glass. Serve before 2 pm – preferably on a weekend.
Source: http://www.mensjournal.com/food-drink/drinks/how-to-make-a-better-bloody-mary-20140415#ixzz3dzx0XZ3i