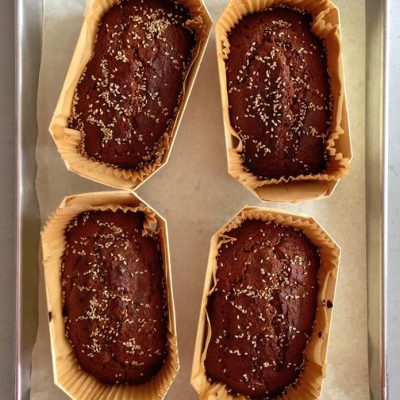 Spiced Honey Cake
Thinking of Rosh Hashanah and all the following holidays brings back great memories of growing up in Israel and the Galilee in particular. Visions of ripe pomegranates, the Hazav flowers, and the changing lights are still vivid in my mind today.
You can feel the change in the air of a whole country and community getting ready to celebrate. With any Jewish celebration comes food (a lot of it!). One that I make to this day is a honey cake, one of my childhood highlights of the holiday season. It is a simple cake made with flour and great honey and occasionally some spices, and can be served both for breakfast and throughout the day.
I was fortunate to live in a kibbutz were honey was produced from wild flowers, avocados and citrus orchards. We could just walk up to the local honey facility and leave with a jar of freshly extracted honey to be served with fresh apples or as part of the cake recipe. Today having a family of my own thousands of miles away from the Galilee, this recipe is my connection with tradition and my family back home. I make it with my kids with a few new twists.
Since I have cooked as a chef for over 20 years I have found my own version of the classic recipe. I add some olive oil and spices and have substituted silan (date syrup) for the honey, even though I still call it honey cake. My father produces olive oil at his farm back home and it's a perfect way to incorporate something from home. This cake can be even frozen for a later day and works perfectly as a French toast or even croutons (if you can manage not to eat it all at once). 
If making this from our mix, please follow the directions in the notes!