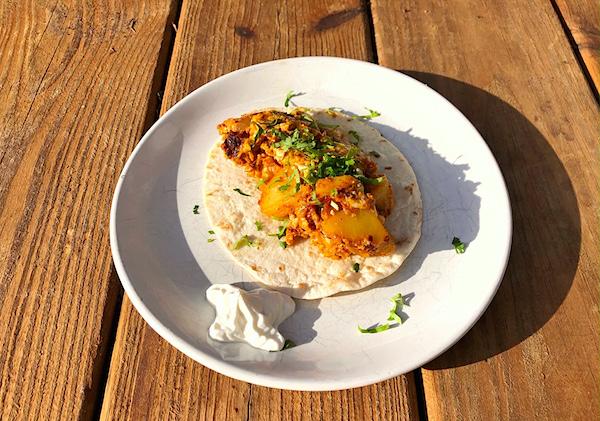 Two Tacos
We had a beautiful sunny day yesterday and I made breakfast tacos using up some potatoes that were starting to spout, some soft chorizo, and eggs. Later that evening we decided to have taco night (just that kinda day), and I had to improvise when making pico. Today, a rainy one, I revisited the breakfast tacos to use up the pico from yesterday.
Shabazi
- Recipe and ideas by
Christian Leue
Breakfast Tacos
Heat a tablespoon of olive oil in a skillet over medium heat, sauté 1/2 of an onion cut into thin strips, after a few minutes add 2-3 sliced potatoes and cook until everything is softened and browned in places. Add in the chorizo (you'll want to use the soft Mexican chorizo for this). Alternatively try any ground meat that you like, plus Izak N37. Once the meat has rendered, crack six eggs into the pan and cook until the eggs are almost set. Remove from heat and serve in tortillas with sour cream. Makes 6 tacos.
You can also reserve half of the cooked mixture (prior to adding eggs), and save it for breakfast the next day. Just reheat in a pan and add eggs.
Pico de Gallo
See my recipe here. I often also use fresh chilies, but turns out I didn't have any, and didn't want to head to the store unless I really had to. The Shabazi blend, with its green chili, is a perfect substitute. It's also amazing in guacamole!
The pico keeps well for a few days, and was great both with classic American dinner tacos (I used Izak in my taco meat seasoning for extra complexity), and on breakfast taco redux this morning :)
Questions about this recipe? Contact us at info@laboiteny.com