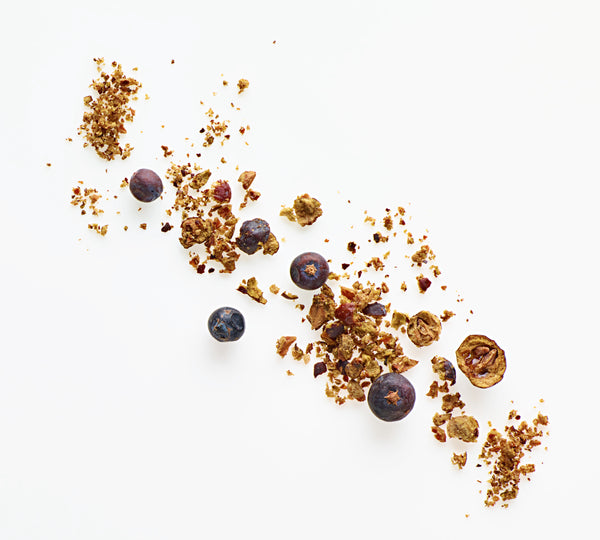 Juniper
Juniper
(JUNIPERUS COMMUNIS)
A resinous, pine-scented spice from the seed cone of a juniper shrub
As a culinary ingredient, juniper made its debut somewhere before the seventeenth century. They are most notably used as a flavoring agent in gin, which was originally intended to calm soldiers during the Eighty Years' War. Understandably, gin became a favorite drink of the British. The piney-notes associated with these spirits are what makes juniper reminiscent of the winter months.

Over the years, juniper has become a mainstay in European cuisines and spirits. They are essential in the traditional Finnish drink ale sahti, the farmhouse ales of Scandinavian countries, and in the Slovak juniper brandy known as borovička. In Northern Europe, juniper is used in pâté, game, sauces, stuffing, pork, poultry. We suggest adding a few crushed berries to your picking liquid or mulling spice for something altogether different.
Flavor & Aroma
Juniper is most commonly known for being the ingredient that gives gin and aquavit their unique flavor. They have piney resinous notes that bring a touch of sweetness combined with a bright, sharp scent.
Origin
Native to the British Isles and cultivated in Europe, North America, and Asia. They're naturalized across the Northern Hemisphere.
Harvest Season
The spherical, berry-like seed cones of the juniper shrub turn from green to blue-black when they're ready to harvest in the fall. The process can take 2 to 3 years. The mark of a high-quality juniper berry is one that's oily and soft enough to cut with a knife.
Usage Ideas
1. Infuse a bottle of white wine vinegar with a handful of juniper berries and 4 bay leaves to make bright, earthy dressings or sauces.

2. Stir ground juniper berries into sour cream seasoned with chopped dill, salt, and pepper, to serve with cold-smoked fish.

3. Combine equal amounts of toasted ground caraway seeds and ground juniper and use to season whole roasted carrots with prunes.
Other Pairings
Potato salad • Apple slaw • Whole roasted veal rack • Red wine and beef sauce • Beer-braised chicken • Choucroute • Gravlax
Recipes