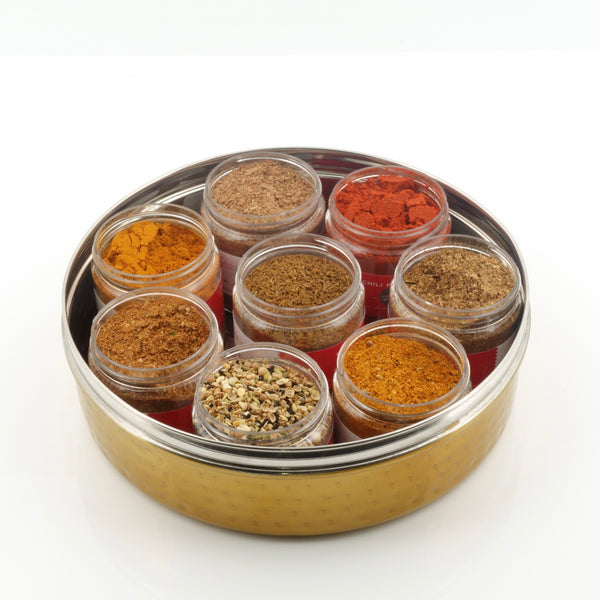 Kanchan Koya
Kanchan Koya combines her PhD in Biomedical Sciences from Harvard University and her training from the Institute of Integrative Nutrition to shed light on the power of spices and food as medicine for vitality and joyful health. Kanchan is the founder and author of Spice Spice Baby, a cookbook and platform that educates the world about the science-backed health benefits of ancient spices and inspires their use in simple, delicious ways.
She is also a health coach, podcast host, and creator with Buzzfeed Tasty, the largest food network online. When Kanchan isn't helping people live long, healthy lives filled with delicious food, she is running, practicing yoga, or exploring all that Brooklyn has to offer, where she lives with her husband and two kids.
After being friends for many years, connecting through their shared knowledge and love of spices, Lior and Kanchan decided to collaborate on a very special Spice Dabba for La Boite. Every Indian home-cook has a Spice Dabba or Spice Box containing spices common to most Indian households - turmeric, cumin, red chili - and some unique spices depending on the region and each family's culinary heritage.
Kanchan and Lior were inspired to create a dabba that feels traditional and new all at the same time, featuring a variety of traditional blends, essential single spices, and some new, innovative spice blends for everyday Indian cooking. They are easy to use, elevating everyday classics to new heights of deliciousness, hoping to bring a bit of India's culinary magic into your homes.
The Spice Dabba is an expression of Kanchan's kitchen, heritage, and knowledge of spice.
IG: @chiefspicemama