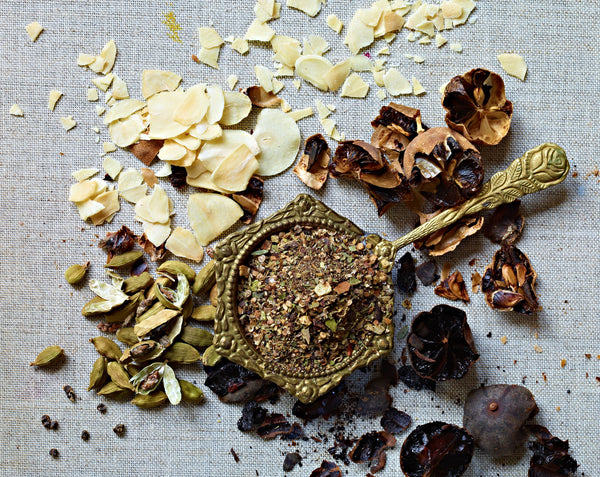 Isphahan N.1
Each month, we highlight one of our spice blends in the hopes to better educate our clients and to inspire them to try new flavors. La Boite's founder, Lior Lev Sercarz, has formulated each blend to elevate your culinary experiences. Every blend is inspired by a person, a place, or a dish, with the flavors working together to tell a story.
Isphahan N.1

Black lime, Persian lime, noomi basra, limon, or Omani: The key ingredient of this Persian inspired blend has as many culinary uses as it has names. An essential ingredient in Persian cuisine, limon Omani is the star of Isphahan N.1. 
Traditionally, these thick-skinned, low-acid green limes are picked in peak season, and dried to preserve them for year round use. They're preserved by boiling them in salt water and laying them out under the sun to dry. This process creates little black or tan rock-like fruits that are musky, smoky, sour and bitter. 
A true homage to the flavors and cooking styles of ancient Persian cuisine, the limon Omani is combined with green cardamom and garlic in Isphahan N.1, creating a blend that is versatile and deeply complex.
Ideas for Use:
Add 2 tsp of Isphahan per cup of water or chicken stock and use to cook rice pilaf, couscous, or risotto.
Season broccoli rabe with olive oil, salt, pepper, and Isphahan. Grill until tender. 
Sauté baby spinach with a pinch of Isphahan; use as a base for creamed spinach. 
Recipes Using Isphahan N.1: