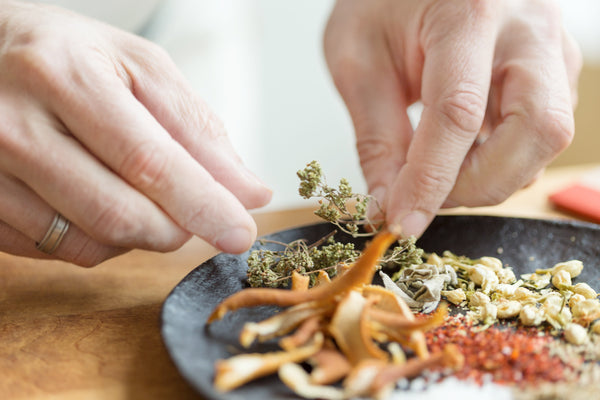 The New Yorker: Spice Mix
Annals of Gastronomy: Spice Mix
How to properly flavor a dish is considered, by most of us, to be a vexing affair. In the kitchen, I've got a piece of meat, or a bowl of pasta, or a steaming vegetable, set before me; how do I season these in a surprising way? One often overlooked member of culinary society has the answer, and he, or she, is the spice adviser. In this case, he is Lior Lev Sercarz, of La Boîte, in midtown Manhattan. Professional chefs turn to Sercarz for new flavors and textures and emotions—recently, it was Ignacio Mattos of the esteemed restaurant Estela, on the Lower East Side. While creating a new spice blend, the conversation between chef and spice adviser becomes a flurry of ideas that results in a tiny jar filled with, might I say, magic.
Seared whole herring with Estela spice blend, cherry tomatoes, ajo blanco, and raisins:
Potential substitutes for herring: whole Boston mackerel, two sardines, or 3-4-oz. portions of swordfish filet for each person.
Serves four.
For the herring:
1-2 whole herring, depending on whether you want an appetizer or main
Salt
Olive oil
1 pint heirloom cherry tomatoes
2 tablespoons raisins
White-wine vinegar (enough to cover the raisins in a small saucepot)
Bronze fennel, for garnishing to your liking
1 lemon
For the ajo blanco sauce:
¼ cup peeled Marcona almonds, raw and soaked overnight
¼ cup olive oil
3 tablespoons water
Salt
Estela spice blend
¼ clove of the freshest garlic, the freshest you can find
Prepare the ajo blanco by blending all of the necessary ingredients (aside from the salt) together in a food processor until the mixture becomes smooth, like a mayonnaise. If it's too loose and liquid-y, add more oil and mix. Season with salt to taste.
In a small saucepot, cover the raisins with white-wine vinegar and bring to a simmer, so that they plump. Set aside, cool, and reserve.
Gut the herring and make sure there are no scales. Pat the fish dry, and season with salt and the Estela spice blend.
Using a medium flame, heat up a black pan and place the herring on it. Cook for about two minutes on one side, and then check to make sure that it is nicely browned. Once it is, flip the fish over and cook for another two minutes.
Cut the cherry tomatoes in half. Season with a little bit of salt, olive oil, vinegar, and lemon zest. Add a few drops of lemon juice, insuring that the tomatoes are wet.
To serve: for each place setting, put a spoonful of ajo blanco onto the center of the dish and lay the herring onto it. Arrange the tomatoes around the fish, along with some of the raisins. Tear some fennel fronds and sprinkle atop it. Drizzle with olive oil.
The Estela Blend:
1 teaspoon whole Chiloe peppers (or ½ teaspoon mild chili flakes), coarsely chopped
2 ½ teaspoons whole dhania (Indian coriander) or regular coriander, toasted and coarsely ground
2 whole yellow dried Persian lemons (limon omani) or 1 tablespoon granulated dry lemon peel
1 ½ teaspoons Aleppo pepper flakes (or mild chili flakes)
1 teaspoon whole cubeb berries (also called tailed pepper), coarsely ground
2 teaspoons ground sumac
½  teaspoon whole cumin seeds, toasted and ground
Combine all spices; keep in an airtight container.