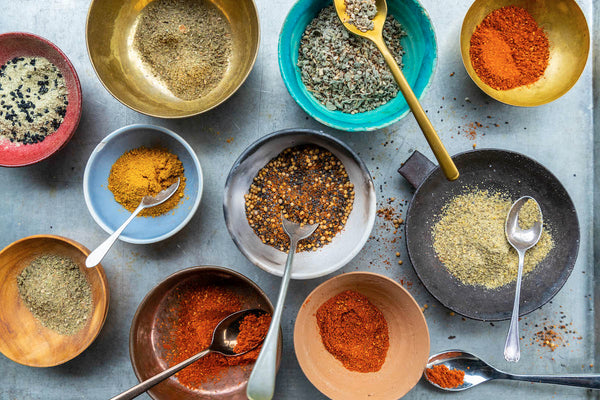 Food & Wine: Spice by Lior Lev Sercarz
Spices by Lior Lev Sercarz
By Susan Choi
Many of America's best chefs get their spices from one source: Lior Lev Sercarz of La Boîte à Epice. Writer Susan Choi asks him to create a custom blend just for her in a quest to understand where alchemy and craft intersect.
Lior Lev Sercarz won't let anyone into his basement.Well, that's not entirely true—the 39-year-old chef-turned-spice-blender did admit the city health inspector into the workspace located below his Manhattan store. The inspector walked in and then out again, shaking his head in disbelief. "It was one of the cleanest places he'd ever seen," Sercarz recalls. "I know [Chicago chef] Paul Kahan thinks I'm hiding something down there. It's really just four grinders, my spices, a cutting board and a knife. But it's a quiet, thoughtful place. So it's something I keep for myself. The rest I share with the world."
What Sercarz shares with the world are spice blends—mixtures with lyrical names: Cancale, Isphahan, Apollonia—that he sells to many of the country's best chefs. "Half my cooking is about sourcing great spices and making great blends, and Lior is just better at it," says Cambridge, Massachusetts's Ana Sortun, an authority herself, who wrote a cookbook on the subject called Spice. Daniel Boulud, during the years Sercarz worked for him as a chef at New York City's Daniel, built a spice shelf in his honor and had him author a spice guide for the staff. Eric Ripert simply got rid of every spice Le Bernardin had been using and started fresh with only spices from Sercarz, who remains the Manhattan restaurant's sole supplier.
The things people were saying about Sercarz's work seemed slightly incredible, especially considering the people saying them. Could there really be something so much better—so much more evocative, intriguing and just plain delicious—about Sercarz's creations? As a very so-so home chef for whom the bland phrase "spice blend" evokes a barbecue shortcut of tasteless orange dust, it seemed far-fetched that one of Sercarz's spice blends could transform my cooking, but I was going to find out. After years of creating spice mixtures for chefs and friends, this year, Sercarz started doing custom blends for private clients. Chef Ignacio Mattos, of Brooklyn, New York's Isa, promised me, "His spices will elevate whatever you do. It opens up another door."
Pore over the current catalog of Sercarz's collection of ready-to-buy spice mixtures, and you'll find a poetry of triads. "Ancho, annatto, mace." "Turmeric, fenugreek, clove." "Sichuan pepper, lime, orchid root." The vast majority of the 40 currently available list three elements. Yet, as Sercarz explained to me, his blends contain anywhere from nine to 23 different ingredients—13 is average. Those triads denote the basic architecture but there's always a great deal more.
Sercarz's background also has its principal elements: He was born and raised in Israel, by parents who imparted to their children a Belgian-German-Transylvanian-Tunisian heritage. He trained as a chef in France, where he apprenticed with three-Michelin-starred chef Olivier Roellinger, famed for his deep knowledge of spices, who became a singular mentor and friend. In 2002, Sercarz migrated to New York to cook for Daniel Boulud, but left in 2006 to devote himself to spices. The same year he launched  La Boîte á Epice, for spices and blends, and La Boîte á Biscuits, for sweet-savory biscuits incorporating his exotic finds.
In developing a blend, Sercarz does 50 percent of the work before he even touches a spice, first sitting with pen and paper to sketch out what he hopes to achieve in terms of flavor, color, smell and texture. Once he has ground and blended a trial version, Sercarz employs not his taste buds, or the stove, but his eyes. "It's easy to judge visually," he says, "just like if you overcook a piece of meat you can tell by looking—you don't need to taste." Only after this period of visual adjustment does Sercarz taste—and he tastes dry. Finally, he'll put the blend to the test, most often by offering it to a client to cook with.
Inspirations for the blends are as various as the ingredients themselves. Sometimes a chef wants a translation, like the time Michael Solomonov, of Philadelphia's Zahav, asked him to create a dry spice mimicking the flavor of an Israeli pickle. Sometimes he's asked to do a cover version of a classic, as when Eric Ripert, looking for a new take on the quatre épices ("four spices," a French mix of pepper, cloves, nutmeg and ginger), asked him for one that toned down the sweetness, and substituted a hint of anise. "It doesn't literally have four spices," Sercarz says of his version, "but Le Bernardin got what it wanted."
Other times, he hopes to achieve something less tangible—evocation of a person or place. Apollonia Poilâne, of the legendary French baking empire, met Sercarz through Roellinger, a mutual friend, and soon after received a surprise in the mail. "I was very impressed, because he nailed a few scents I adore," she recalls. "Especially since I don't remember mentioning to him that I love chocolate." The mixture (cocoa, orange blossom, pepper) carries her name. PL (mustard and fennel seed and zuta, a wild mint from Israel) was made and named for Sercarz's friend Paul Liebrandt, the chef at New York City's Corton. Ana (sumac, rose blossom, sesame) was created for Ana Sortun.
But these are Sercarz's friends—not to mention world-renowned chefs whose styles and tastes are well known. I wondered how he would be able to conjure a flavor profile perfectly suited for me, a harried working mother whose culinary "style" is trying not to serve fish sticks more than once a week. Arriving to meet Sercarz at his very clean, white, beautiful storefront in Manhattan's Hell's Kitchen, I'm not sure what to expect. Will he ask me to fill out a questionnaire? Have me sniff a selection of spices?
Instead we simply talk, with such pleasure and ease, about so many topics—his family and mine, the spice trade, what I like to eat—that when we say good-bye I'm startled to realize I've been there for more than two hours. "Do you have enough to go on to make me a blend?" I wonder. He reassures me. Less than 72 hours later, FedEx brings a small box to my door. Within are six sample-size jars from his repertoire and one larger jar of something luminously gold, labeled "Indochine."
Speaking to Sercarz's many chef friends and clients, a fascinating pattern emerged: Not a single one of them knew exactly what was in the packages that he sent them. Now I found myself in the same position. I'd told Sercarz he could not use sesame, as one of my sons has an allergy to it. Other than that, I was completely in the dark—a strangely bright and liberating place to be. Over the next several days, I used the blend with striped bass, lamb and tofu; with eggplant, cauliflower, potatoes and Lebanese flatbread; with eggs, okra and chickpeas. My seven-year-old, a willing but not wildly adventurous eater, devoured my Indochine striped bass and left his own, unspiced portion untouched. My almost-four-year-old complained, "Mommy, stop saying that word, Indochine!" I went through half the sizable jar and cooked nothing that didn't taste good.
I knew that Sercarz's other private clients had done "revisions" of their blends, so I tried to think of how I'd revise Indochine. I didn't want to seem easy. But the more I cooked with it, the more I liked it and craved it, though I still had no idea what it was. It was so complex and satisfying—so me—that I was starting to feel too protective to change it. "How did you do this?" I demanded of Sercarz when we next spoke. I couldn't even guess which parts of our lengthy, shapeless, thoroughly fun conversation had formed the basis of my blend—I was beginning to share Paul Kahan's point of view, that there was some sort of alchemy occurring in that basement.
"We talked about how you craved Asian—but you live in Brooklyn," Sercarz explained. "The blend ties those together. And you mentioned going crazy for the taste of asafetida," he went on, reminding me that I'd told him about a Bengali friend's mother's addictive spinach dish—which contained only spinach, sugar and asafetida, an esoteric Indian flavoring. "It was funny, " he said, " because I'd wanted to showcase asafetida for a while, but I knew it couldn't be the major key. " He kept pulling out bits of our conversation that I barely remembered, like the Indonesian long pepper I'd noticed on his desk. "Those elements were warm and exotic, with not too much heat. I knew I wanted to do a coarse texture, so it would come into play as a thing you chew on. So those were the three keys—asafetida, long pepper and coarseness—and from there I started adding."
The golden concoction did turn out to contain turmeric, which I'd easily guessed from the color. It did not contain ginger, which I could have sworn to. And there was plenty I'd never even heard of, like black cardamom, Aleppo pepper and amchoor, a powder made from dried unripe mangoes. But what delighted me as much as Sercarz's alchemy was his vision of what role the spice blend might play in my life. "I wanted you to be able to travel all over without leaving your apartment in Brooklyn," he said. "If you can take your kids one day to Malaysia, one day to Thailand, one day to Aleppo—if you can evoke curiosity in them through the food that they're eating, it's great. If your kids will eat Indochine...I think I might retire!"
I doubted I had to worry about Sercarz's untimely retirement. He often says cooking is a form of love, quoting his mentor, Roellinger. If so, Sercarz's custom blends are his form of loving attention—not just to a client's culinary tastes, but to her cravings and curiosity; her past, present and future; her off-the-cuff associations; her mundane routines and dreams. In the course of our meetings, he had mentioned a brand-new idea: cookie therapy. "People will come for an hour, and we'll eat cookies and talk about whatever they want." I asked how he'd come up with such a perfect idea. He explained that this was already how, with great pleasure, he spent much of his time at his store. Why not make it official?
As soon as he does, sign me up.
Susan Choi is a writer and novelist in Brooklyn, NY. Her most recent book is 'A Person of Interest'.
Top Spices from La Boite a Epice's Spice Rack
N.7 Pierre Poivre Named for an 18th-century French horticulturist and spice trader, this floral blend of eight types of peppercorns is good on steak or a log of chèvre. $15 for 2.25 oz.
N.11 Cancale The fennel seed, dried orange peel and fleur de sel in this delicate mix are delicious on baked fish. They're even better, though, sprinkled on dark chocolate. $15 for 2.75 oz.
N.34 Orchidea The fragrance of this sandy mixture comes in part from orchid root and Sichuan peppercorn. It's amazing in place of cinnamon sugar on snickerdoodles. $21 for 3 oz.
N.35 Ararat Smoked paprika, fenugreek and urfa biber (an earthy dried Turkish red pepper) can add intense wood-fire flavor to chicken legs and pork ribs. $15 for 2 oz.
N.38 Shabazi Inspired by a Yemeni chile paste, this fiery mix blends green chiles, cilantro and garlic. Try it warmed in olive oil and spooned on roasted potatoes. $15 for 2.5 oz.
N.39 Reims This blend of star anise, crystallized honey, cinnamon, cardamom and ginger can bring an exotic edge to hot cocoa or rice pudding. $15 for 2.5 oz.
All available at laboiteny.com.