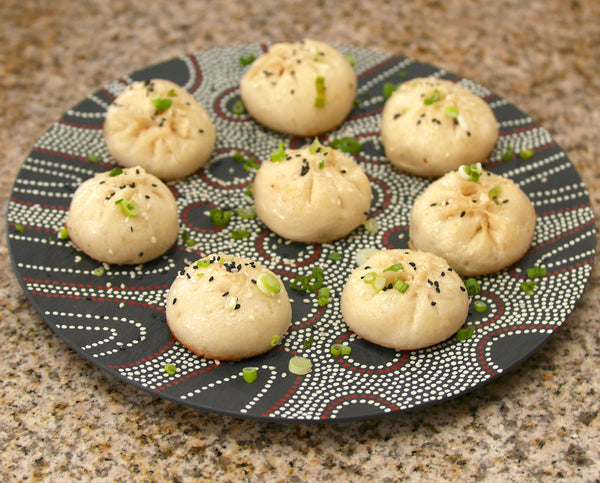 Char Siu Barbecue Pork Buns
Believe it or not, you don't find ovens in most Taiwanese households. If there is one, it's likely the oven is used as another "cabinet" to store pantry items such as rice or rice noodles. I discovered the joy of baking only after I moved to the US. Cake, cookies, chicken, fish, you name it—I enjoy baking them all. My favorite moment is turning on the oven light to peek at my delicious food through the glass. That moment of anticipation is the best! A typical method to cook pork in Taiwan is called 紅燒 (braising). It is a combination-cooking method that uses both wet and dry heat. Typically, the pork is first sautéed or seared at a high temperature with soy sauce and rock sugar, then finished in a covered pot at a lower temperature while marinating the sauce. I like to experiment, so sometimes I marinate it first and then bake it in my oven. This has been a fan favorite in my dim sum classes for years.
There are two ways to cook the buns in Taiwan. You can either place the buns in a steamer and steam them, or you can pan-fry them. The famous Taiwanese soup dumplings are done by a steam method. I like to make small BBQ buns and pan-fry them. They remind me of my favorite childhood treat: pan-fried buns (生煎包) from the Shi-Da night market (師大夜市). I love the crispy bottom of the buns and the juicy and chewy fillings. The complexity of the texture makes this one of my top-ranking comfort foods! If you're ready for a different kind of barbecue, try this recipe. You won't be disappointed!