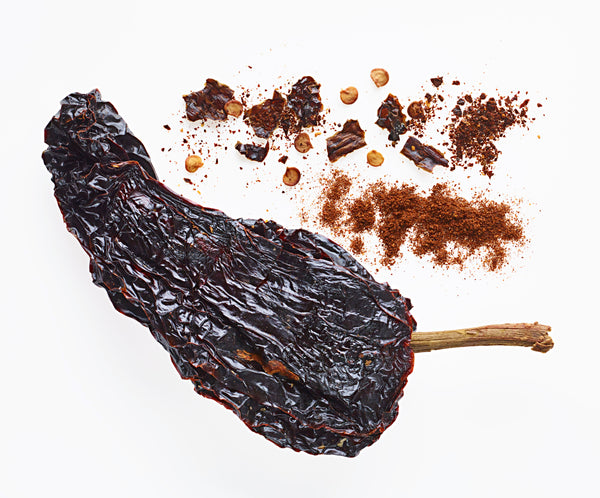 Ancho
Ancho
(CAPSICUM ANNUUM)
A mild chili with vivid color and plum flavor notes
You may already be familiar with ancho's first form, the poblano pepper. Poblanos are picked when they are still green and used fresh, but once they are left on the vine to ripen, they become deeply red and sweet. After that, they're harvested and left to dry in the sun, where they transform into ancho chiles. In Mexican cuisine, they are considered part of the holy trinity of chiles, along with mulato and pasilla chiles. Thanks to the anchos frequent use in Mexican cuisine, it has become one of the most popular dried chiles varieties in the world.
Flavor & Aroma
Ancho chilies have a slightly sweet, chocolaty taste that's almost raisin-like in flavor. The sweet notes pair well with the gentle heat, making them one of the more complex, bold chilies in our collection. Another thing that we love about ancho is the deep red/orange color that adds visual richness to dishes.
Origin
Native to Puebla, Mexico and cultivated in Mexico and California.
Harvest Season
Poblanos are left on the vine to fully ripen, changing from the recognizable green color to a reddish black. When left on the vine, they develop more intense flavors and sugars. They are harvested late in the season and then laid out to dry in the sun.
Usage Ideas
1. Mix cooked egg yolk with ancho chili powder, mayonnaise, lime juice, and chopped fresh cilantro to prepare Mexican-inspired deviled eggs.

2. Grate whole ripe tomatoes on the large holes of a box grater. Add ancho chili powder, lemon juice, olive oil, and chopped onion for a quick salsa.

3. In a blender, purée cooked red beans, ancho chili powder, and fresh garlic cloves. Season with salt for a pungent spread or side dish.
Other Pairings
Squash soup • Roast duck • Barbeque sauce • Beef stew • Chocolate mouse • Tamales • Braised black beans
Recipes