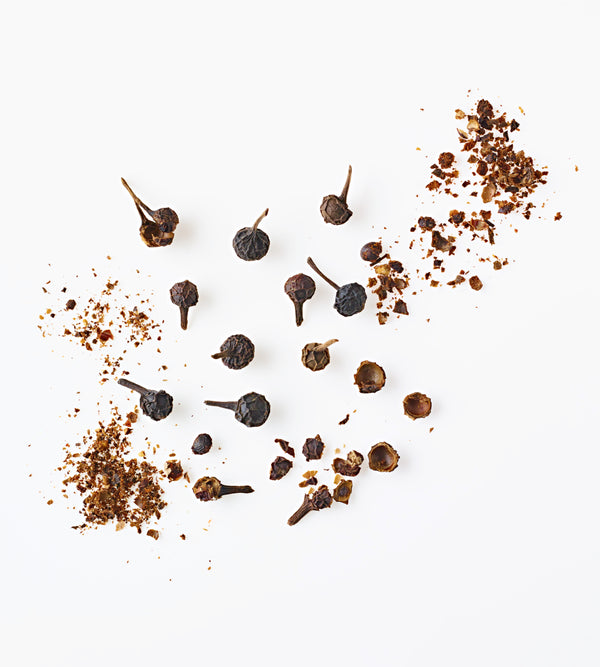 Cubeb
Cubeb
(PIPER CUBEBA)
A slightly bitter, tongue-numbing pepper with a signature tail
Although commonly used in Europe in the sixteenth and seventeenth centuries as a substitute for black pepper, cubeb is rarely used in the West and the rest of the world now. Throughout the years, Javenese growers have created a monopoly on the production and export of cubeb, solidifying them as the main suppliers of cubeb to the world. Its peppery notes help balance gamy meat and sweet-dried fruits in North African cuisine. You'll find it used in Moroccan Ras el Hanout and Indonesian curries. 
Flavor & Aroma
Upon opening a jar, you'll notice a fresh, resinous aroma. The notes are slightly bitter with a refreshing, slightly numbing sensation on the aftertaste. It's almost like a cross between allspice and pepper. One of the best ways to explore the flavors of cubeb is through citrus.
Origin
Native to Java, Indonesia, cultivated mainly in Java and other Indonesia islands, but also Africa and India.
Harvest Season
Cubeb is the immature fruit of a tropical climbing vine in the pepper family. A small number of white flowers on the vine turn into a collection of berries. They are picked in the early summer before they ripen then laid out to dry in the sun.
Usage Ideas
1. Infuse simmering milk with cubeb berries and use for a bechamel sauce.

2. Season thin slices of duck breast with ground cubeb, ground ginger, and soy sauce before cooking.

3. Combine ground cubeb with rice wine vinegar, sesame seeds, and orange zest and use to season a cold soba noodle salad.
Other Pairings
Orange marmalade • Seared scallops • Braised lamb collar • Roasted parsnips • Lemon pie • Semolina date cakes • Mutton tagine
Recipes