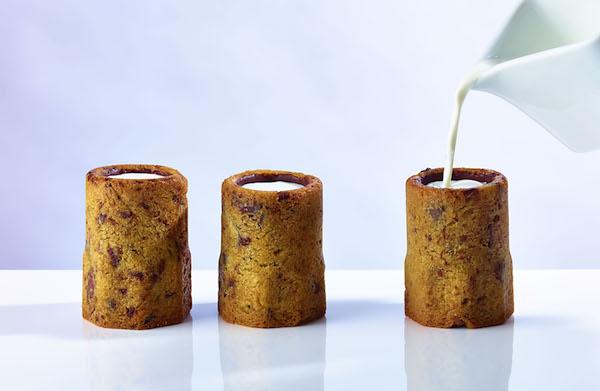 Dominique Ansel's Christmas Morning Cereal
This month we sit down with our friend Dominique Ansel to share an annual holiday tradition and ask a few other fun questions.
Thank you for taking the time Dominique, let's start with the tradition. Can you tell us a bit more about your Christmas Morning Cereal, where the idea came from, and why you'd like to continue doing it every year?
We started making Christmas Morning Cereal in 2013 at the Bakery in Soho. Christmas Morning is such a cherished moment for so many people, when they wake up and enjoy breakfast together with the people that they love. So we wanted to start a tradition with our own cereal blend - it's made with Valrhona Caramelia (caramelized milk chocolate) covered puffed rice, smoked cinnamon mini meringues, and whole caramelized hazelnuts. I eat it by the handful. And now, it's become a tradition for people across the country and around the world too - people who buy it every year and give it to their friends and family or to enjoy at home. I wake up every Christmas morning and see photos from people all over the world on Instagram who are eating the cereal for breakfast.
Your cereal uses our Smoked Cinnamon N18 blend in the meringue bites, which adds savory elements to a sweet recipe. Do you have any other traditionally savory spices you like using in sweets and what do you think works about them?
Saffron, for those nutty, rounded, floral notes.
Sea salt as an addition to some of our pastries, creams, and caramels, for example - to balance out the sweetness, or to sprinkle on top to finish.
The La Boite Mishmish spice - we used it in one of our dishes for U.P., our after-hours tasting table at Dominique Ansel Kitchen. It was a dish from our "American Dreams" menu (where each course chronicled a different American dream in history) - the dish was a white picket fenced-house with beautiful little garden of fruits and veggies, and we sprinkled Mishmish on a pickled permission flower with a passionfruit gelée center, to add a bit of citrus and pink peppercorn notes.
And ras el hanout - which has really earthy, warm and raisin-y notes that works nicely with certain sweet flavors.
The surprise element of it is something we like a lot, people are always shocked when savory spices show up in sweet and it gets a conversation started. You're known primarily for pastries and sweets, so I'm curious what savory dishes you love to eat and make.
Soft scrambled eggs with toasted baguette on the side.
A pot of homemade cassoulet during the holidays - I make this for my whole team each holiday season, and also a batch for my friends and family too. It takes 3 days to make (and I make so much, it takes 3 days to eat too) - with confit duck legs, pork belly, garlic pork sausage, and soft white tarbais beans, always with good crusty bread to sop up all the sauce.
And for a late night snack: a fried egg and Japanese pork sausage with rice and a drizzle of good, aged soy sauce.
What's a fond memory you have that is associated with spices and/or food?
When I was visiting Kyoto, I went to a shichimi specialist, who created all different blends and varieties of shichimi, a 7-spice blend. It's so delicious sprinkled onto rice or on grilled yakitori.
If you were cooking a dinner for just you and your mother, what would you make and where would you serve it?
Believe it or not, my mom is not a good cook, so she's pretty flexible with what she wants to eat.
Hah! And what's your favorite thing about your life right now?
Our original Soho shop is just about to turn 7 years old, so it's made me think about the past 7 years and how we started with just 4 people and now we have a few shops and a few hundred employees around the world. It's wonderful to see how our team has grown over the years, and how they've become my family.
Thank you very much!
Christmas Morning Cereal will be available Friday November 23rd at this link. You can also sign up for their newsletter at the website below to receive notifications.
Follow Dominique for more updates
Instagram: dominiqueansel
Facebook: dominiqueanselbakery
Twitter: dominiqueansel
Dominique Ansel
James Beard Award-winning Pastry Chef, Dominique Ansel has shaken up the pastry world with innovation and creativity at the heart of his work. As Chef/Owner of eponymous bakeries in New York, Tokyo, London, and Los Angeles, as well as his first-ever restaurant which recently launched in Los Angeles in November 2017, Chef Dominique has been responsible for creating some of the most fêted pastries in the world, including: the Cronut® (named one of TIME Magazine's "25 Best inventions of 2013"), The Cookie Shot, Frozen S'more, Blossoming Hot Chocolate, and many more.
For his prolific creativity, he was named the World's Best Pastry Chef in 2017 by the World's 50 Best Restaurants awards. Food & Wine has called him a "Culinary Van Gogh" while the New York Post coined him "the Willy Wonka of New York." He was also named Business Insider's "Most Innovative People Under 40," one of Crain's "40 under 40," and was bestowed the prestigious l'Ordre du Mérite Agricole, France's second highest honor. Prior to opening his own shop, Dominique served as the Executive Pastry Chef for restaurant Daniel, when the team earned its coveted third Michelin star and a four-star review from The New York Times. He opened his first shop in 2011 with just four employees.