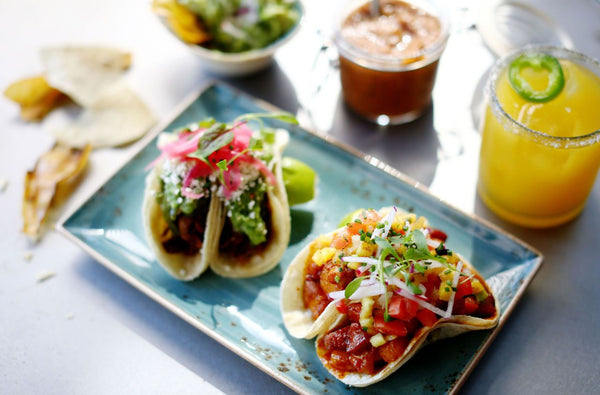 Town&Country: Yes, You Can Pair Cocktails With Food!
Yes, You Can Pair Cocktails With Food
And by "food" we do not mean mixed nuts
GETTY CRAIG BARRITT
On Tuesday chef Giada de Laurentiis hosted a dinner at Frankie's 457 in Brooklyn, NY; each of the four courses was paired with a Frangelico cocktail created by Distilled's Micaela Piccolo—not an easy feat to pull off considering how sweet the hazelnut-flavored liqueur is.
"I think people are becoming a little more savvy about what's happening and are understanding ingredients and appreciating food in a different way," she told me. "They're starting to see that there's more than just wine and they're trying to educate themselves."
Praise the lord. We live in an era of a cocktail renaissance, and sometimes it seems as if anything is possible as long as it involves a tumbler or a highball. But pairing cocktails with food at a formal meal? Would anyone other than the infallible Ms. de Laurentis risk the disapprobation?
"Absolutely," says Darryl Chan, head bartender at Bar Pleiades, Daniel Boulud's bar on New York City's Upper East Side (he's planning to pair cocktails to courses at a spice-inspired dinner in conjunction with spice purveyor La Boîte at Café Boulud on August 12). "I was at a wine tasting not too long ago at a well-known restaurant and the topic of cocktails and food came up. Many of the sommeliers were saying how the alcohol in cocktails is too strong for pairing with food, but I thought, 'Really? We can control that!'"
It's true. Unlike wine, the service of which sommeliers can really only control in their choice of glassware and decanters, cocktails can be changed on the fly by "adding flavors, controlling temperatures, playing with textures and more, all done a la minute and catered to the guests' tastes," Chan says.
Her favorite combination last night? The Hazel Eyes cocktail (Frangelico, Scotch, orange liqueur, and Palo Cortado Sherry), whose "smokiness and tad bit of sweetness was the perfect balance between" her own almond cake and a chocolate hazelnut torte.
De Laurentiis has said that when she entertains she chooses a cocktail first and then come up with a menu around that drink, a practice that helps "create the theme of the party."
Ann Tunnerman, who founded the annual New Orleans cocktail festival Tales of the Cocktail in 2003, has been hosting Spirited Dinners—with cocktail pairings—since year one.
"People thought I was crazy up until about 2009," she says. This year there were 22 spirited dinners over the course of the five-day event.
Gina Chersevani, mixtress & owner of Washington, D.C.'s Buffalo & Bergen, collaborated with Chef Kristen Essig on drinks for the menu at Meauxbar. One pairing called Eos, ­The Goddess of Dawn (above), combined a dish composed of an egg cup, fennel custard, trout roe, pickled fennel, chives, and a crisp with a cocktail called the reBirth that was made with Milagro tequila, fennel-lime cordial, a dusting of fennel pollen, and a salt rim.
GETTY
Here's how a few mixologists and chefs mix cocktails with food:
"I do it in one of two ways. The first is to pair complementary or similar flavors. Cocktails allow you to create flavors not found in traditional spirits or wine. With this range, I can really manipulate a cocktail to match the dish a guest is eating, fully engaging their palate in that particular taste experience. The other approach I take with cocktail pairing is to use the beverage to cut through the taste of the food and cleanse the palate. It's a lot of fun to uncover what that juxtaposition. In terms of process, I like to both lead with the cocktail, then working with Chef to develop just the right dish, or taste a dish and use that to inspire the cocktail that will work best."—Leo Robitschek, bar director at Eleven Madison Park and the NoMad Hotel
"I start by choosing a base spirit that complements the flavors in the food menu (e.g. with our Cucumber-Avocado Soup, Maine peekytoe crab, red Fresno chili, mint, I'd pair an herbaceous, peppery tequila) but it's also important to consider the weight of the final cocktail. Will it be light and crisp, or heavy and round? It's a lot like a sommelier approaches a wine pairing (e.g. for said soup, it would definitely be a light and crisp wine). When pairing, considering all the components of the cocktail, like modifiers or lengtheners, is just as important as choosing the
spirit."— Darryl Chan, head bartender at Bar Pleiades
GETTY
"Cocktails can be a fun way to introduce new flavors to a menu. They're very particular and you can influence the taste of a drink by incorporating different ingredients, whereas, with wine, you get what you get. I like more neutral spirits, like gin or vodka, with citrus or herbs for seafood dishes like ceviches and tiraditos. With bourbon, whisky and tequila based cocktails, I'd go with a dish that's more robust, like chicken or braised beef."—
Chef 
Aaron Sanchez (who paired a menu with Tres Agaves tequila for a Spirited Dinner at Johnny Sánchez)
Not surprisingly, distillers are latching onto the increasing popularity of these dinners.
Maker's Mark, for instance, is hosting two dinners with New Orleans Chef John Besh at its distillery in October on top of the six-course Spirited Dinner it hosted last month at Commander's Palace.
It's been a long time in the making.
"Maker's Mark and its culinary roots date back to the very first bottle; my grandfather, Bill, Sr., who created Maker's Mark with the help of my grandmother, Marge, experimented with flavors in the kitchen," says Rob Samuels, COO of Marker's Mark. "Bill, Sr., didn't want to wait six plus years to learn what his whisky would taste like, so he baked breads with various mash grains and tasted each one until he came to the perfect soft wheated flavor that would become the recipe base for Maker's. To this day, we have a great appreciation for the culinary craft that chefs like Tory McPhail, the chef at Commander's Palace, bring to the food and beverage world."
With more collaboration between bartenders and chefs now than ever before, a veritable role reversal is in place at some restaurants. Mixologists are using kitchen techniques along with ingredients one normally sees in food. At Commander's Palace, where the bar is accessed by walking through the kitchen, the restaurant gives its cocktail program so much weight it calls its bar manager a "bar chef."
Now just might be a better time than ever to be drinking cocktails.
Try It At Home
A good example of a classic cocktail with many pairing possibilities, Chan says, is his Bamboo (sherry, vermouth, bitters). It's low in alcohol, crisp and refreshing, "with salinity that pairs just as well with a crudo as with a pot de crème."
COURTESY OF BAR PLEIADES
Bamboo
1.5 oz Dolin Dry Vermouth
1.5 oz Lustau Los Arcos Dry Amontillado sherry
2 dash Orange bitters
1 dash house made Bergamot-Foraged Pine bitters (lemon bitters can be used instead)
Combine all in mixing glass with ice. Stir and strain into a chilled coupe glass/martini. Express the oil and garnish with a lemon twist.
Source: Town & Country