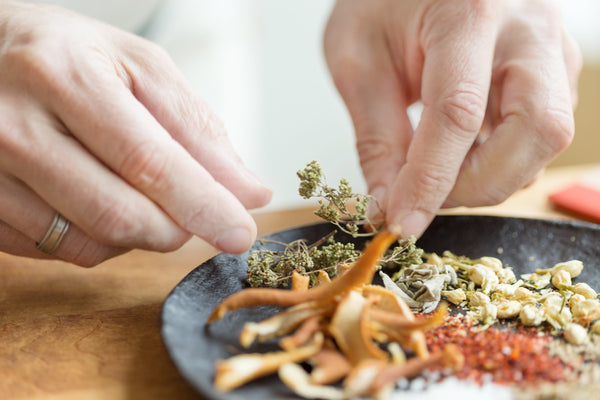 Food52: Spice Master and Author
Lior Lev Sercarz, Spice Master and Author of The Art of Blending
By Kenzi Wilbur
When we think of spice these days, the name Lior Lev Sercarz isn't far behind. Known as the spice master to the stars, Sercarz has forged his own Silk Road from of the streets of Manhattan, peddling his blends to restaurants like Le Bernardin and Daniel. If you walk into his spice shop, La Boîte à Epice, Lior will happily talk you through spice, and then weather, and then whatever you like, really. He's so approachable, so interested, you might forget for a moment how busy and accomplished he really is. (He published his new book, The Art of Blending, in just six months.)
We chatted with Lior about life, cooking, and how our spice racks have power well beyond salt and pepper. And because he's so nice, he's giving away his new book to one lucky commenter! See below for the scoop.
1. If you could only have five things on your spice rack, what would they be and why? 
Cancale N.11: I use salt in everything including baking. This salt is very delicate and has also fennel and orange, which I love.
Pierre Poivre N.7: This is, for me, the perfect balance of heat, sour and texture. I use this pepper blend every day.
Izak N.37: This blend has sweet chili, cumin and garlic; it reminds me of my grandfather and his wonderful Tunisian cuisine, and it allows you to add a bit of heat -- and savory notes -- to everything.
Ararat N.35: I love the smoky, almost meaty notes that can transform even vegetables into something so complex.
Ana N.36: And last but not least, this blend because it's floral and has a lot of textures. I use it for sprinkling on fresh vegetables or on top of a salad.
2. Describe your process when you create. Where does it all start? What inspires you to blend?
All blends start with a certain story or inspiration. They can start with my own idea, or one from a client looking for something new. In both cases, there is always a reason or story behind the spice.
The first step is choosing the ingredients, then I measure, toast, grind, and blend. I'm not looking for boundaries -- I want the blend to allow users to create savory dishes, desserts and even cocktails. Once it's done, I usually leave it for a while before I come back and try to cook or bake with it. You never know how long it will all take: the process could last a few days, or it could stretch over a few months.
3. You'd have to expect for us to assume the meals you cook at home are exotic and highly spiced. What's a go-to, comforting meal for you?
It's true, I tend to cook a lot of Middle Eastern food and North African dishes that allow me to use a lot of spices. My go-to, comforting meals would have to be soups, stews, roasted vegetables, and braised meats.
4. Let's switch the direction a bit from spice -- what's your favorite sweet?
I love sweets and desserts! My favorite is ice cream followed by knafeh -- a Druze cheese dessert. And more often than not, I am glad to skip the whole menu and get right to the dessert part.
5. Word on the street is that you collect things other than unique spices. Care to expand? 
I love collecting things, but unfortunately I don't have the space to store them all. I chose to focus on boxes and tins that are all food-related. I currently have about 1,300 of them in a storage -- the oldest is a pasta box from 1920. I was inspired by the late Evelyn Lauder who had a huge tin collection and encouraged me to start my own.