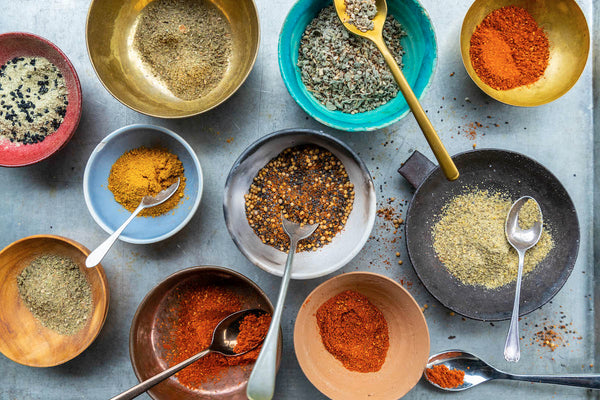 Food & Wine: Spices In Your Cocktails
For years, Lior Lev Sercarz of NYC's La Boîte has been the go-to spice guy for star chefs across the country. Now he's being tapped by bartenders. Mixologists are using his complexly flavored custom spices to add depth and character to cocktails by adding them to syrups, using them to infuse spirits or simply rimming glasses with them. One such spice enthusiast is Darryl Chan, the head bartender at Bar Pleiades, who came up with a selection of drinks using Sercarz's spices to complement a menu of North African dishes being served at Café Boulud (the restaurant in which Bar Pleiades is located). Last week, Sercarz and Chan visited the Food & Wine Test Kitchen to show off a few of their collaborative drinks, one of which was a Casablanca-inspired cocktail called As Time Goes By.
Chan put a lot of thought into the cocktail and how it relates to the movie. It's made with Old Tom gin (a reference to the quote, "Of all the gin joints in all the towns in all the world, she walks into mine"), Cognac (because there's a lot of Cognac-drinking in the movie), sweet vermouth infused with La Boîte's Marrakesh N. 6 (to represent Morocco), Dolin Blanc vermouth, Angostura bitters and an Islay Scotch rinse (to emulate the smokiness from all the cigars and cigarettes smoked in the movie). While the Marrakesh spice blend is Sercarz's go-to for a rack of lamb, the cumin, cinnamon and mace in it meld terrifically with the vermouth and gin.
This month, the Voyage section of the menu at Bar Pleiades and Café Boulud will change from North Africa to India, which means a new selection of cocktails made with La Boîte's Indian-inspired spice blends. It also means that the As Time Goes By will no longer be available. So make it at home! Not only are the cocktail's flavors perfect for fall, but it's also easy to batch out ahead of time and serve to a crowd. Try it using Chan's recipe, below.
As Time Goes By
Makes one drink
3/4 ounce Old Tom gin
1 ounce VS Cognac
3/4 ounce Marrakesh N. 6-infused Carpano vermouth (see note)
1/2 ounce Dolin Blanc
2 dashes Angostura bitters
Lapghroig 10 Year Old Islay Scotch
Combine all ingredients (except the Scotch) in a mixing glass and stir with ice. Strain into a chilled cocktail glass rinsed with Scotch. Express a lemon peel over the top of the cocktail and serve.
Note: To make the infused vermouth, mix six ounces of Marrakesh N. 6 with one liter of Carpano Antica. Let the mix infuse overnight in the fridge, shaking the bottle occasionally. Filter through cheesecloth and use or refrigerate for later use.