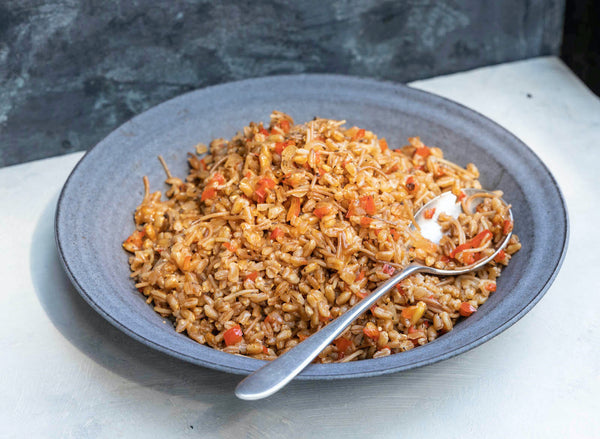 Farro with Toasted Noodles
Throughout Lebanon, Syria, and Turkey, rice is often cooked with broken bits of toasted vermicelli noodles, which are sometimes called fideos in Spain and Latin America. The resulting dish is like a pilaf, but with more layers of texture and taste. I learned the technique from an Armenian chef when I cooked in France and have since adopted it as my own, swapping in farro for rice, because I find that it has more character. I like the earthy taste and substantial bite of this ancient grain, which has become so popular it's easy to find in just about any supermarket. Fresh red bell pepper lends sweetness and a little acidity to the mix and pairs well with a range of seasonings.
A hint of mint freshens up the savory depth of garlic and the smokiness of pimentón in this simple side dish. It would pair well with any grilled meat or fish. For an extra toasty and smoky flavor, try substituting freekeh (toasted green wheat), for the farro.