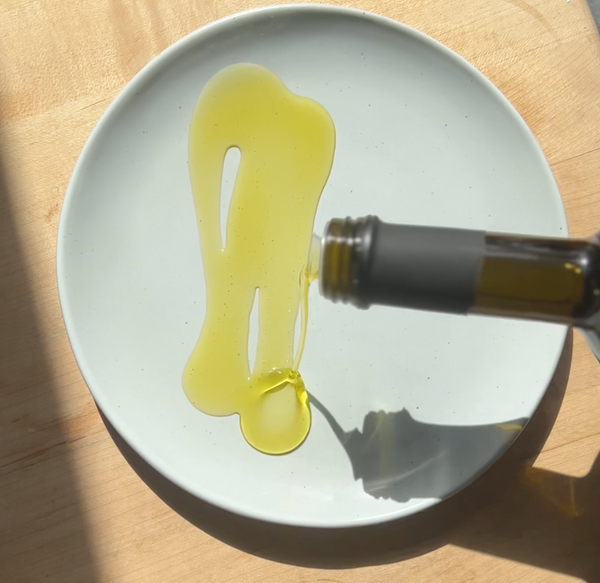 Recipes for Olive Oil
We do love olive oil here at La Boîte and our collaboration with Ptora for our cold pressed, extra virgin, koroneiki olive oil is rich and fruity with a complex peppery finish and low acidity.  Sometimes referred to as the "king of olives" koroneiki are harvest from generations of growers and trees that are 3000-5000 years old and known for their pure, olive-y flavor.  The oil has all the robust body for cooking as well as finishing to your heart's content - "super duper EVOO" as Rachael says (link to her latest Paccheri recipe with our olive oil below).
The lemon and Espelette anoint the oil with the chili flavor of the southwest of France.  Then drizzle it onto steamed vegetables, crusty bread, or use it to roast the bright flavor into dishes like this next one.
So simple and delicious. Sometimes when I make this I start picking at it as I'm plating it and half of it disappears before it even hits the table.  The baby cauliflower (or caulilini) is a great find too.  We have it at our local Trader Joes but any cauliflower (or broccoli) will be good too.
Every good vinaigrette has to have a great oil.  Like this Riviera Vinaigrette - it's your staple, all purpose, Italian/French, style vinaigrette for salads and marinades.
Olive oil is also the key ingredient in our easy compound butters.  The flavor adds to the deliciousness, lowers the smoking point of the butter, and keeps them spreadably soft straight from the fridge.
Then there is the Mediterranean style that evokes all the produce, spices, and sunny days we can dream of.  These dishes need olive oil and olive oil needs these dishes.
How about a nice 1 pan fish braise with fennel, green olives, and of course La Boîte olive oil.  SO nice and easy on a weeknight.
It IS roasting season....and Brussels sprouts caramelized in a pan with a splash of lemon and airy, nutty shavings of Manchego cheese...definiitely needs olive oil to start things off and a fresh drizzle to finish.
And remember all those times you wish you could make that Bucatini Amatriciana you had that one that one time at that amazing place?  You CAN.  And you can have it faster and nicer than ordering out.  Grab your olive oil, let's get started.

And just in case you need an olive oil cake to finish things off, here's a pretty upside-down version that with works many seasonal fruits in addition to apple.  The quality and flavor of your olive oil matters.  The better the ingredients the better the outcome.  Bon appetit!
p.s. in case you didn't see Rachael loving our "super duper EVOO" on the Rachael Ray Show, here's her recipe for Paccheri from the other day to help keep the delicious dishes coming.
Questions?  Contact helen@laboiteny.com.