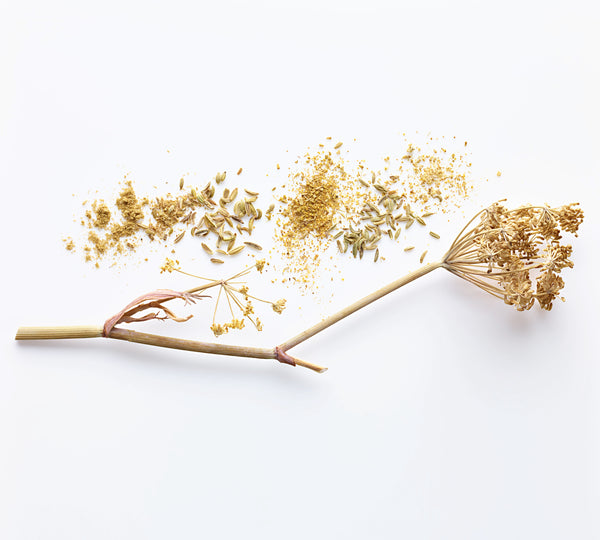 Fennel
Fennel & Lucknow
(FOENICULUM VULGARE AZORICUM)
A heady, anise-scented spice made from the seeds, pollen, and leaves of the entirely edible plant.
You were probably first introduced to fennel as a spice without even knowing it. It's a common ingredient in breakfast sausages and cured meats, giving them a slight piny flavor and a bitter, herbaceous taste that complements fatty ingredients. It's a mainstay in Indian and European cuisines and of course, in many of our spice blends.

Fennel is native to Italy and was transported across Europe by soldiers during the Roman Empire. This helped spread fennel to different countries and regions all over the globe. The seeds are often confused with anise seeds, but fennel is stronger with notes of licorice. Pro tip: crunch on whole fennel seeds to cleanse your palette.
Flavor & Aroma
Part of fennel's beauty comes from the fact that the whole plant is edible - the bulb, the stem, the seeds, and even the pollen. The pollen is the most prized part and most delicate part and the seeds are delicious whole, ground, toasted, or not. We source our licorice-flavored Florence fennel from India and Turkey. Lucknow fennel is the lesser-known variety named after the town in India. Lucknow is slightly sweeter and more delicate. Fennel and Lucknow are delicious when combined.
Origin
Native to the Mediterranean and cultivated mainly in India, but also in the US, Turkey, and Europe.
Harvest Season
Fennel is a member of the parsley family and has fragrant thin fronds similar to dill. It usually takes about 12 to 14 weeks for a bulb to mature if you're using fennel as a vegetable. When sown for their seeds, umbels are cut when seeds are fully ripened and laid out to dry. The seeds are then separated from the stems and cleaned.
Usage Ideas
1. Sprinkle thinly sliced zucchini with fennel pollen, sea salt, olive oil, and lemon juice for zucchini carpaccio.

2. Mix an equal amount of fennel seeds, sesame seeds, and mustard seeds and use to coat a tuna loin before quickly searing it.

3. Combine one part fennel seeds with two parts pano (Japanese bread crumbs) and use to bread chicken cutlets before cooking.
Other Pairings
Farro risotto • Roasted Brussels sprouts • Mushroom cream sauce • Baked sea bream • White wine-braised chicken • Porchetta
Recipes