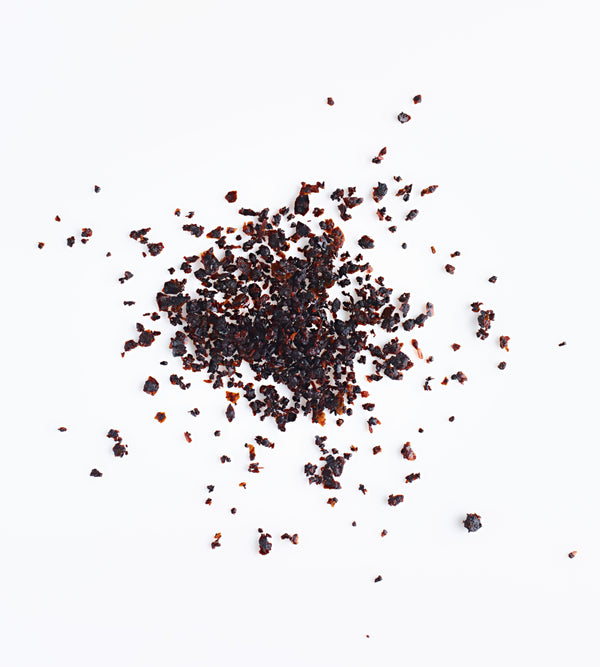 Urfa

Urfa
(CAPSICUM ANNUUM)
A smoky-sweet, mildly hot chilies with an unusual drying process
This Turkish chili, also known as Urfa biber or isot peppers, grows in the southern part of the country, not far from the Syrian border. In recent years, Urfa has gained popularity in western countries due to its unusual complexity, raisin notes, and smokiness. Its unique flavor and aroma, plus its mild heat make it a great "everything" chili, meaning it is delicious in raw or cooked and sweet or savory applications.

The coarsely ground chilies are used in Turkey much like how we use black pepper in the states. You'll find them in pickles, cured meats, and lamb dishes. We suggest trying Urfa chili on anything you can. Their versatile flavor pairs well with roasted vegetables, stews, rice pilafs, and even pizza. Also, try then in sweet recipes, like our Chocolate Avocado Mousse, where it adds incredible depth. 
Flavor & Aroma
When you first open the jar, your nose is immediately hit with captivating chocolate and wine tannin scents, oily with a slightly bitter orange note. The taste is sweet, acidic, and earthy. Don't worry about heat with this chili as it is relatively mild.
Origin
Native to South and Central America and later the Turkish town of Urfa. Cultivated in Turkey.
Harvest Season
After being picked when they are ripe and dark red, they are set out in the sun to dry during the day. This gives them their distinctive burgundy color. At night, they are covered with fabric to sweat, which retains their essential oils. This means that while the chiles are essentially dry, they still have a bit of natural humidity.
Usage Ideas
1. Sprinkle crushed Urfa chili on thinly sliced fresh sea scallops and finish with a drizzle of olive oil and lemon juice for a quick carpaccio.

2. For a different take on fritters, add crushed Urfa chili to sautéed kale or collard greens and add bread crumbs, eggs, and ricotta cheese before frying.

3. Combine crushed Urfa chili with melted dark chocolate and drizzle over vanilla ice cream, then top with Urfa-spiced nuts.
Other Pairings
Fried eggs • Carbonara • Orange bbq sauce • Hummus • Chocolate mouse • Eggplant dip • Roasted vegetables
Recipes