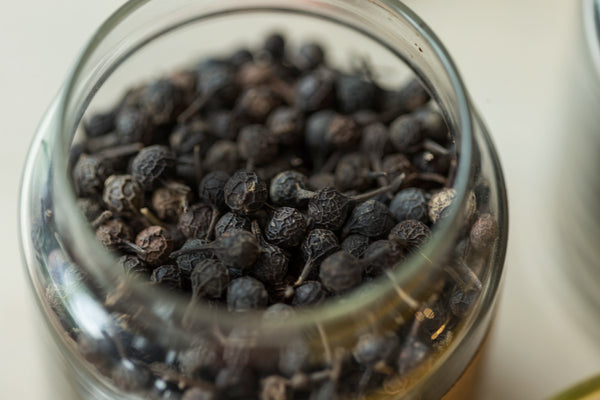 All Things Peppercorns
Pepper
Peppercorns are arguably the most important spice in the history of spice trade, aside from salt. What began as a humble vine growing off of India's Malabar has transformed our cooking, let alone the world. Pepper's longevity, variety and influence deserve to be celebrated!
The two main varieties of pepper are Malabar and Tellicherry grow on India's Malabar coast. Both varieties come from the exact same plant (piper nigrum), however each has a different characteristics that make them different. Tellicherry is considered higher quality than Malabar and has larger berries. Malabar peppercorns are typically a bit fruitier than their counterpart. 
Black, white, red and green peppercorns all come from these plants, but are harvested and treated at different times of year. Cubeb and long pepper are peppercorns that come from different plants in different areas of the world. Pink pepper is technically not considered a peppercorn, however it is usually grouped in with the main varieties of peppercorns, so we will treat it as such!
The entire peppercorn collection will be 15% off throughout the month of January with code pepper15. 
White Pepper
posted 01.26.2021
Traditionally, processing white peppercorns is a time consuming undertaking, where the almost-ripe berries are soaked in water. Then, the outside skins are removed to produce the white peppercorn berries. The production process also involves a length drying time, however some manufacturers cut it short so that they have faster, heavier berries (the heavier the berries, the more money you can charge). As a result, white peppercorns can sometimes develop a fermented scent and gray color, which is not how white pepper should be. 
There is, however, somer really great white pepper out there. Some of the best varieties are Montok from Indonesia, Penja from Cameroon and Sarawak from Malaysia. True white pepper is cream colored with herbaceous, earth notes and a mild heat. Contrary to popular belief, white pepper isn't a substitute for black pepper. White pepper is more elegant and delicate than its counterpart. It's amazing on raw or cold dishes, as well as seafood and dairy. It is often more expensive because it requires more care and attention, but it is indeed worth it. 
Ideas for Use
Season chilled, cooked brown rice with ground white pepper, lemon juice, hazelnut oil and diced radish
Sprinkle ground white pepper on boiled potatoes. Serve with sour cream and smoked haddock. 
Drizzle coarsely ground white pepper, lemon juice, honey and olive oil over sliced apples for a crisp, peppery snack. 
Green Pepper
posted 01.19.2021
You may have seen jars green peppercorns in brine at the supermarket, but not known what to do with them. We find they work best in sauces and stuffing!
Green pepper is more mild than its black or white counterparts. Because of its herbaceous, fresh notes, it complements pork, fruit, vegetables and sauces really nicely. It's harvested the earliest of the peppercorns, before it's ripe, and are typically freeze dried or air dried, which means they break down really easily; you can throw whole ones into a salad without worrying about breaking a tooth!
Ideas for Use
Add green peppercorns to vermouth and honey and simmer until the mixture reduces and thickens. Serve with cheese. 
Sprinkle ground green peppercorns on sliced seedless grapes and serve with grilled lamb chops.
Season diced butternut squash with ground green peppercorn, olive oil and orange juice, and roast until tender.  
Kampot Red Pepper
posted 01.12.2021
Kampot red peppercorns are sometimes confused with pink pepperberries from Brazil, however true red peppercorns are rare and expensive. This is because they are left on the vine the longest, which means there's a higher risk of loss and a lower yield. Red peppercorns are picked when they're fully ripened.
The flavor profile is citrusy with a subtle sweetness, making it a great seasoning for seafood and fruit dishes. When coarsely ground, they add wonderful texture to cooked fish or roasted veggies. In a blend, red peppercorns go well will herbs such as basil or tarragon.
Ideas for Use
Sprinkle coarsely ground red pepper on tomato wedges before grilling and serve with fresh ricotta
Coat fresh watermelon wedges with extra-virgin olive oil, sprinkle with ground red pepper and serve with chilled poached shrimp
Season thinly sliced mushrooms with olive oil, lemon juice and cracked red pepper and serve with an arugula salad
Black Pepper
posted 01.05.2021
Black peppercorns are harvested January-March while they are still green. Then, they are fermented or blanched and sun-dried. This process turns them dark and wrinkles their skin, as seen above. 
Indian Malabar is the most common type of black pepper, with a robust flavor, scent and degree of heat. Tellicherry is of higher quality with a larger berry, a bit of sweetness and notes of citrus. At La Boite, we prefer whole Tellicherry black pepper because it is easy to source and high quality. Sarawak, Lampong and Kampot are more rarer and harder to find, but offer new and amazing flavors.
We recommend buying whole black peppercorns and using a pepper mill or grinder to grind as needed. If you buy it already ground it can lose its intense flavor and aroma and you might risk additives. 
Ideas for Use
Sprinkle coarsely ground black pepper on sliced peaches, drizzle with balsamic vinegar and serve with manchego cheese
Combine a handful of coarsely ground black pepper with soften butter for a flavored butter
Puree black pepper and olive oil in a blender to make a pepper paste for pasta or grains. 
La Boite Peppercorn Recipes
Overly season your poaching liquid with flavorful, yet delicate spies, like white pepper, and poach for a super moist, silky pieces of fish. The remaining poaching liquid becomes a sort of sauce for the salmon. 
Adding green peppercorn to a pickling liquid gives it a fresh, herby taste with a mild heat. The addition of black peppercorns adds a little more spice. Use mini cucumbers for a pickle that's ready in a day. 
This blend pairs whole dried lemon slices with Kampot red peppercorns from Cambodia, for a flavor and aroma that is fresh, inviting, and vibrant. Optionally you can add garlic, onion, and/or salt, or use this as a springboard for your unique creation.
This recipe uses a custom pepper-based spice blend from The Spice Companion which brings out some of the best flavors in beef. Since it's winter, Lior uses the broiler to create char and flavor since you may not be able to cook outside